An important update from The Spartan Times Online Newspaper: Student Council announced that the Winter Ball has been postponed to March. The specific new date will be announced at a later time.
https://bit.ly/3XhmCxf

Treat your Valentine to a heart-warming tribute to two amazing musicians, Billy Joel and Elton John, at 7 p.m. Saturday, Feb. 11, at the Sanford Performing Arts Center. For more information, follow this link:
https://bit.ly/3waIsXx

There will be a Winter Carnival Dance on Saturday, January 21st at Sanford High School. The cost will be $10 and it will run from 7-10 p.m. If you would like a student from another school to join please get a form outside the front office or at the Assistant Principals office.

REMINDER: Willard School is hosting a hiring event for the Portsmouth Naval Shipyard TOMORROW from 12 - 3 p.m. There are walk-in interviews for most trades, including painters, pipefitters, machinery mechanics, ship fitters, machinists, and more.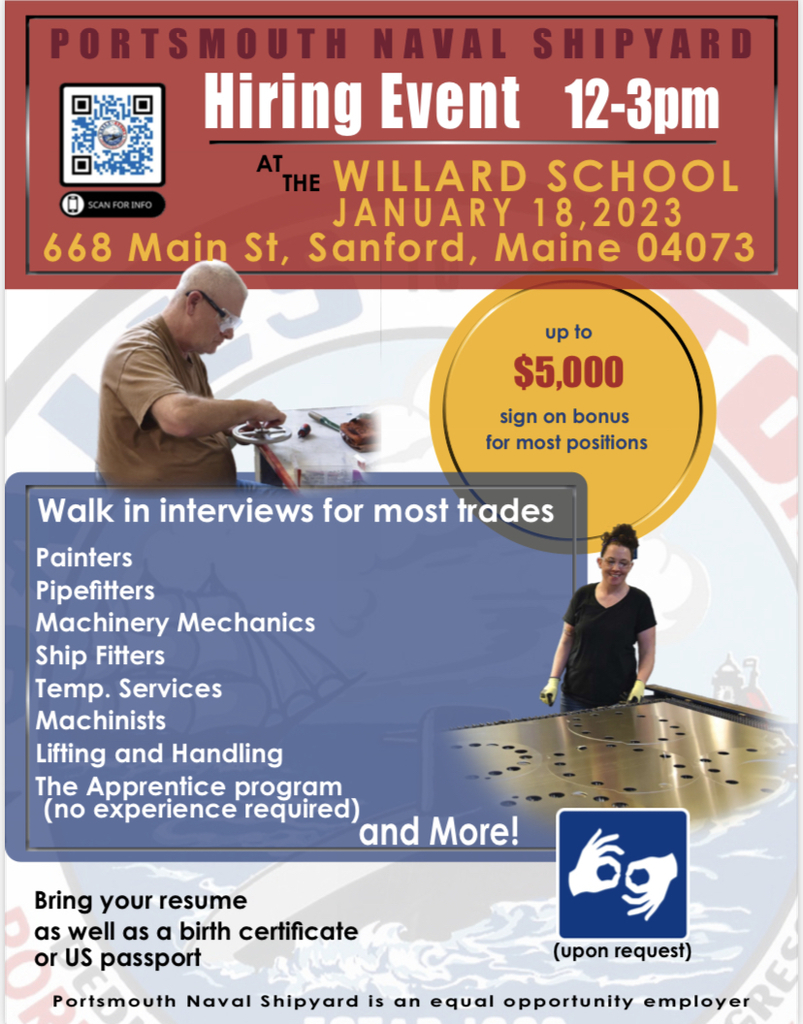 Congratulations to Lyla Wells for getting a Positive Behavior Award for an outstanding student at Carl J. Lamb School! Way to go!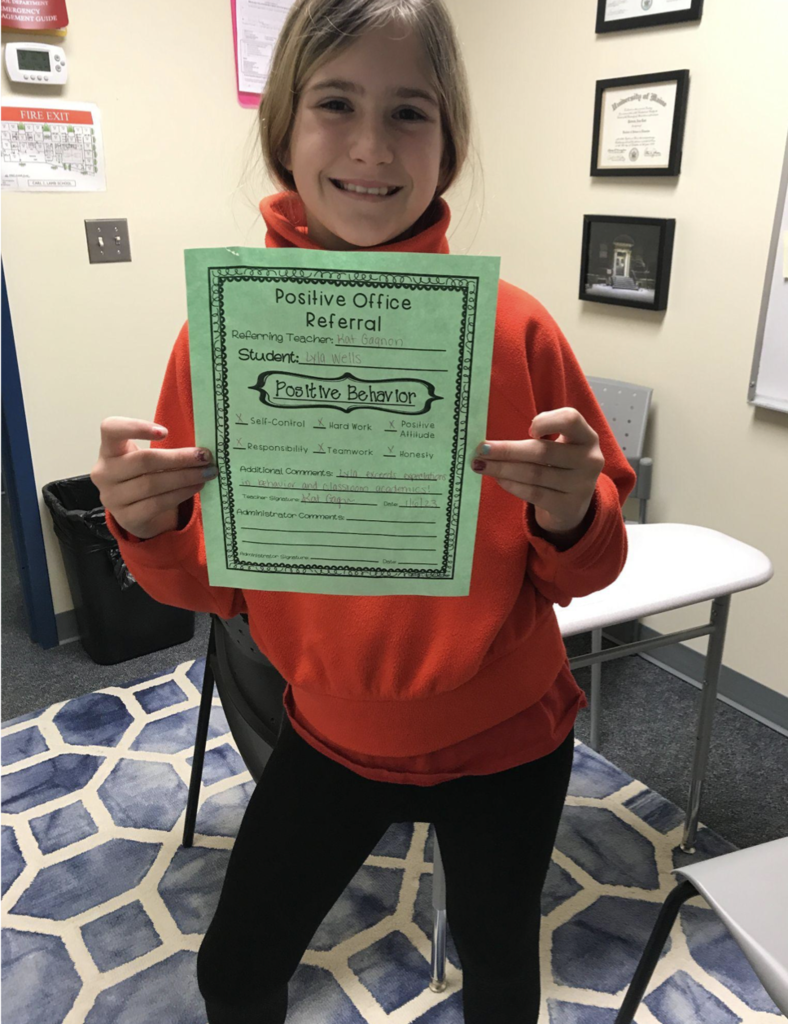 Come join us at the Free Ice Fishing Derby for kids at Number One Pond in Sanford on Saturday, February 18th! It's a free event for children ages 15 and under. They must be accompanied by an adult. The event is brought to you by Sanford Parks and Recreation and the Carl J. Lamb PTA. You can pre-register up until February 10th at
www.sanfordrec.com
and receive a free BBQ lunch.

Nominations are now open for Maine's Teacher of the Year program. Use this link for more information including how you can nominate your favorite Sanford School Department teacher
https://bit.ly/3H8LXE3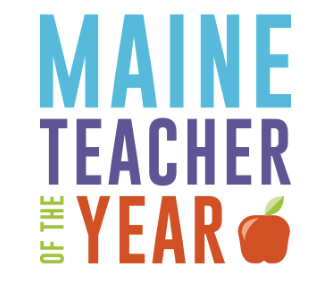 Today we celebrate the life of Reverend Dr. Martin Luther King Jr. He believed in equality, freedom and dignity for all people. This is an appropriate time to remember how he called each of us to engage with one another and our communities, to speak and act to improve lives, and to spread education and compassion. "Life's most persistent and urgent question is, 'What are you doing for others?'" Dr. King said. While Sanford Schools are closed today, we hope you take this opportunity to find ways to honor of Dr. King's legacy.


So many wonderful classes coming up at Sanford Community Adult Education! Don't miss the opportunity to sign up for classes that start next week. You can find all SCAE offerings at
www.sanfordlearns.org

In December, beginning band students at Sanford Middle School had the opportunity to win a G clef pencil by memorizing Jingle Bells. There were a lot of kids this year who did just that. Congratulations to those who did!

A huge thank you to the Sanford Springvale Chamber, who donated $700 to the SHS peer helpers to continue their projects at the high school!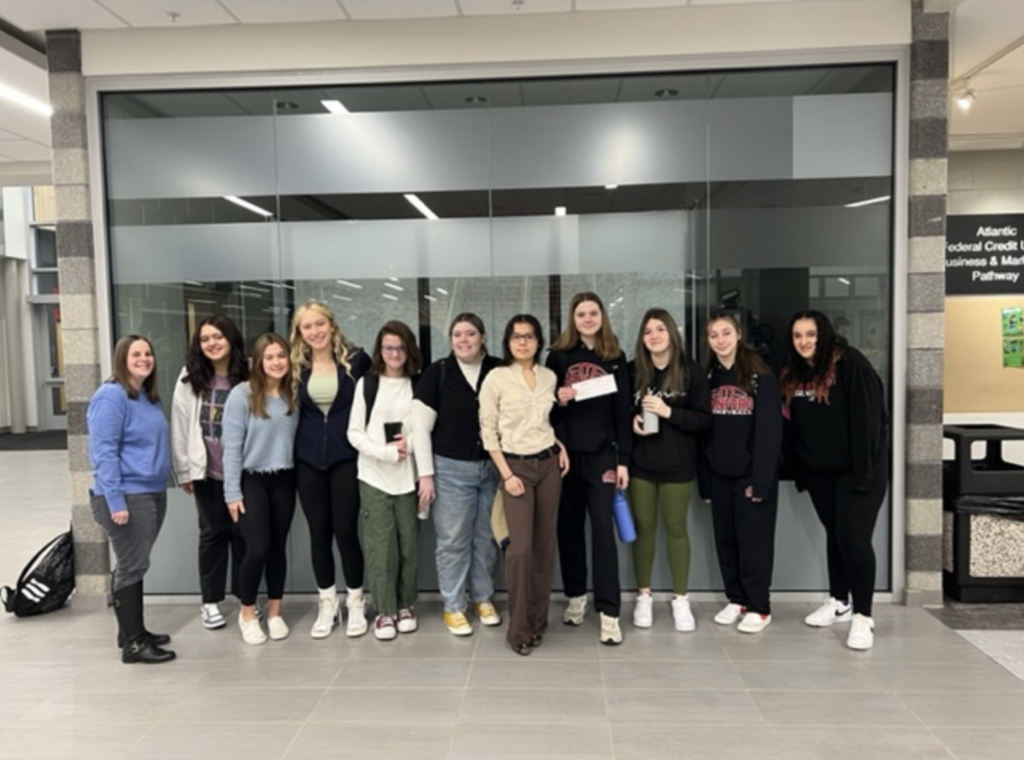 Congratulations to the 8th grade Boys Basketball Team on their win over Saco Middle School yesterday! Great game boys!


The latest edition of the Sanford Spotlight Newsletter is now available! Follow the link to read more:
https://bit.ly/3CIXebP


Friday bake sales at the middle school are coming back !! Treats will be a dollar or less, after school! Stay tuned to hear more details for this week's bake sale on location and featured treat!

Friendly reminder that the Sanford Spartans Travel Basketball Maine Celtics night is coming this Saturday, January 14 at 7p.m. The event is a highlight for the teams, families and supporters. Please reach out to the teams coaches or message the Sanford Spartans Youth Facebook page for tickets.

The students in Ms. Howard's class at Margaret Chase Smith School have launched Unit 5 in their new Reveal math program. In this unit, kindergarten students explore and identify various 2D shapes. The students have the opportunity to use pattern blocks to create larger shapes.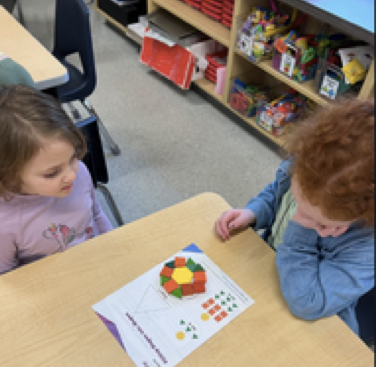 Reminder that high school yearbooks are on sale now! They can be ordered online at
www.yearbookforever.com
or through the order forms found outside School Counseling or D113. Pre-ordering during this time makes it so you are guaranteed to get a book! Don't wait!