More photos from the SRTC Middle School Camp. The Academy of Business campers spent their week creating their own ice cream company and shared the results with us all on the final day of camp. This program also collaborated with Video Production campers to create a commercial.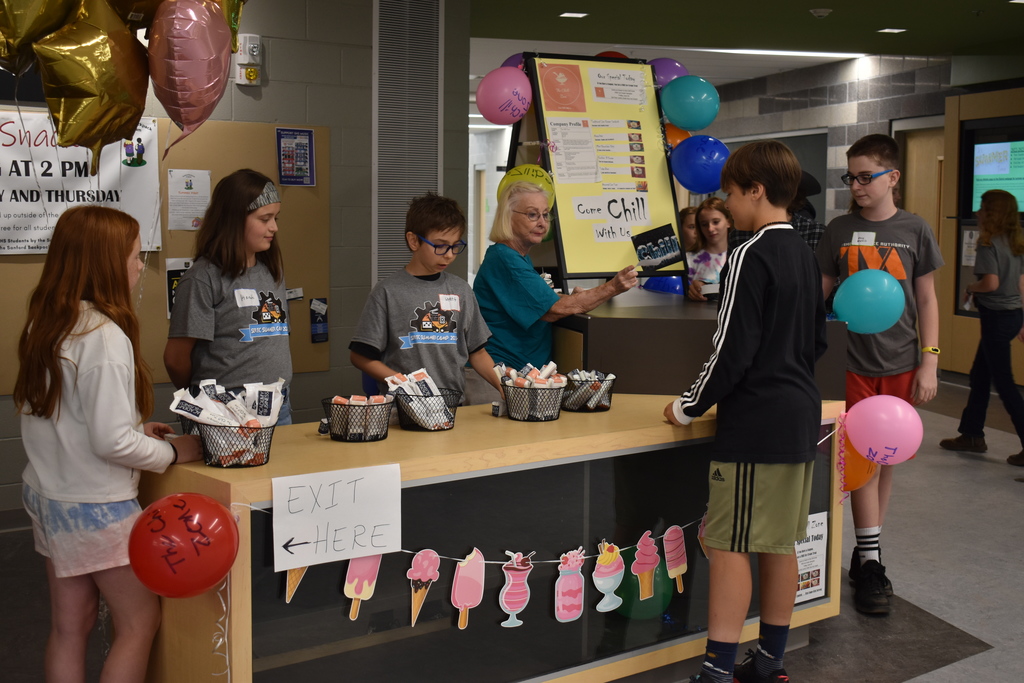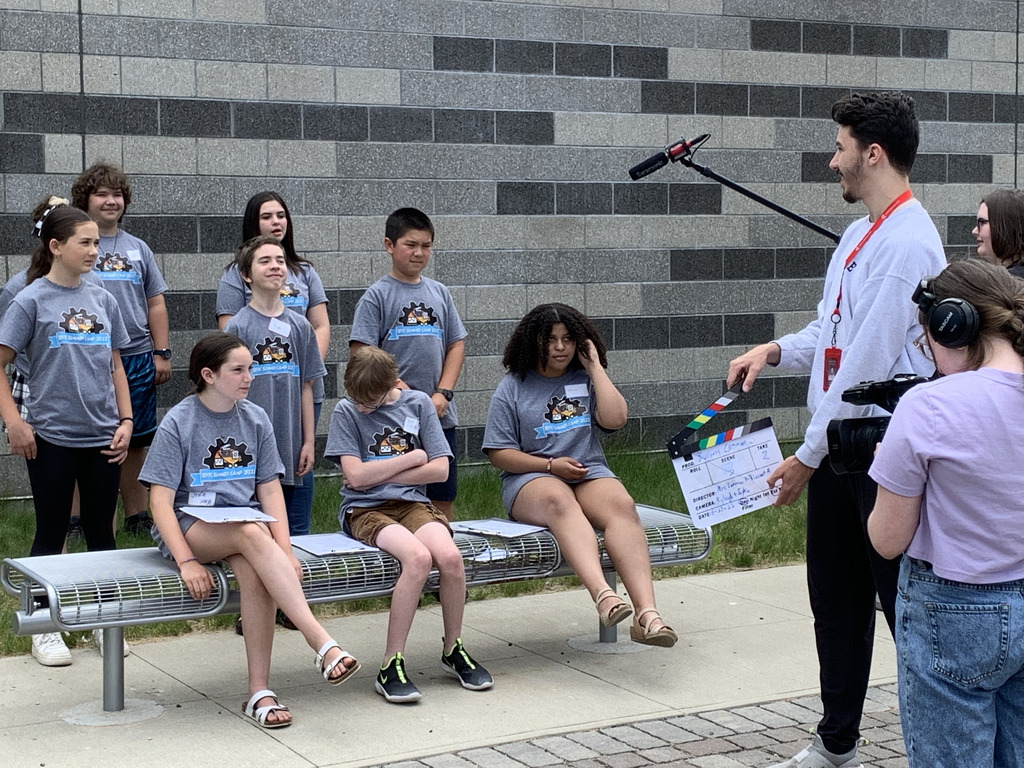 More photos from our Middle School Summer Camp. This time, it's the STEM B program.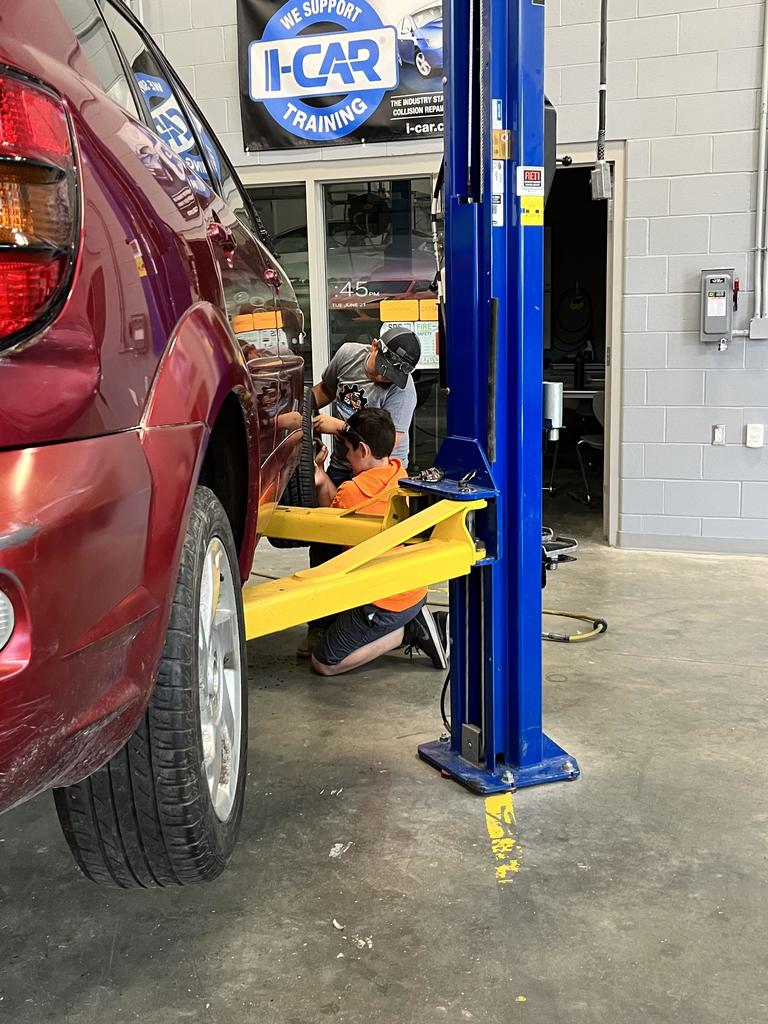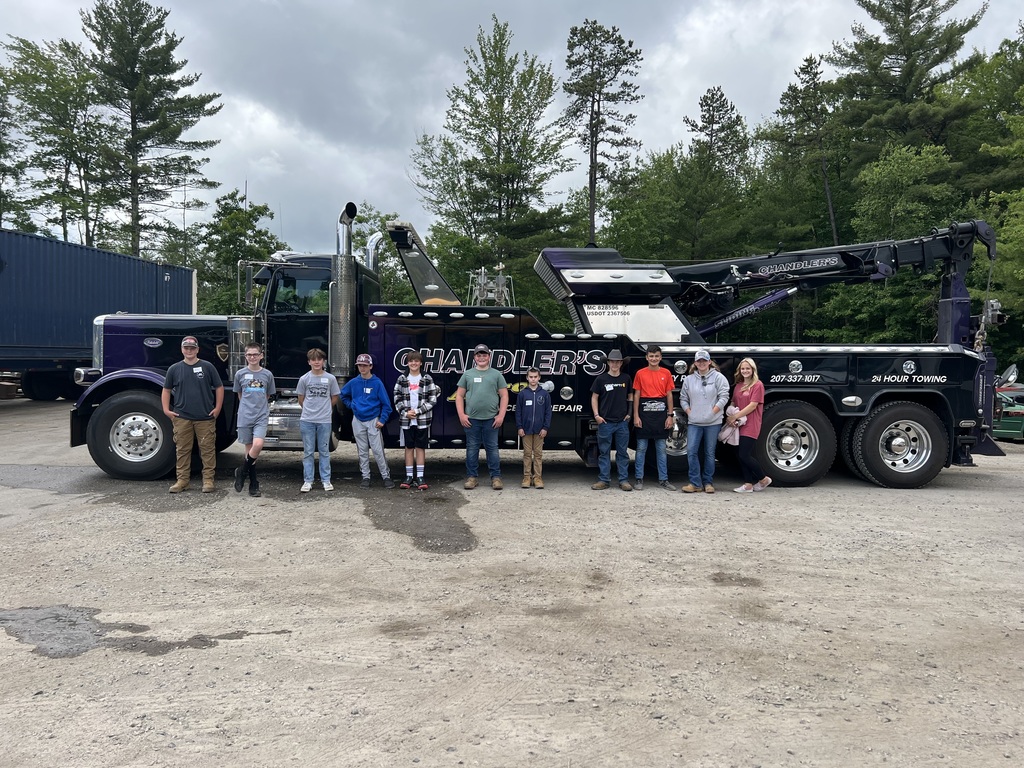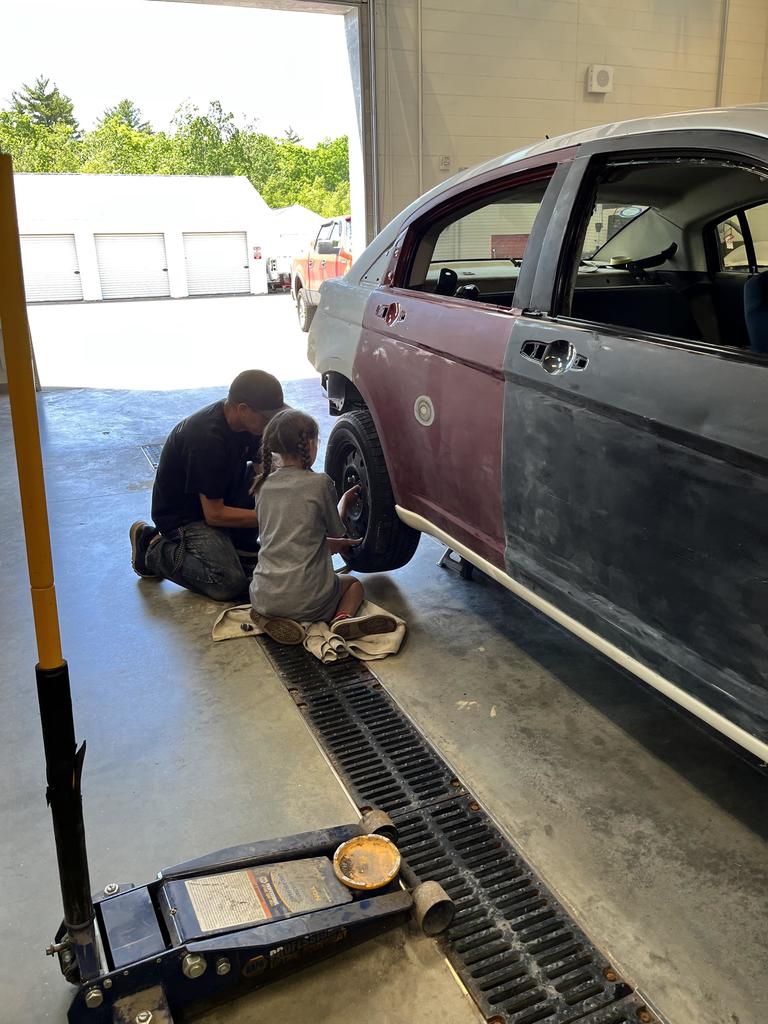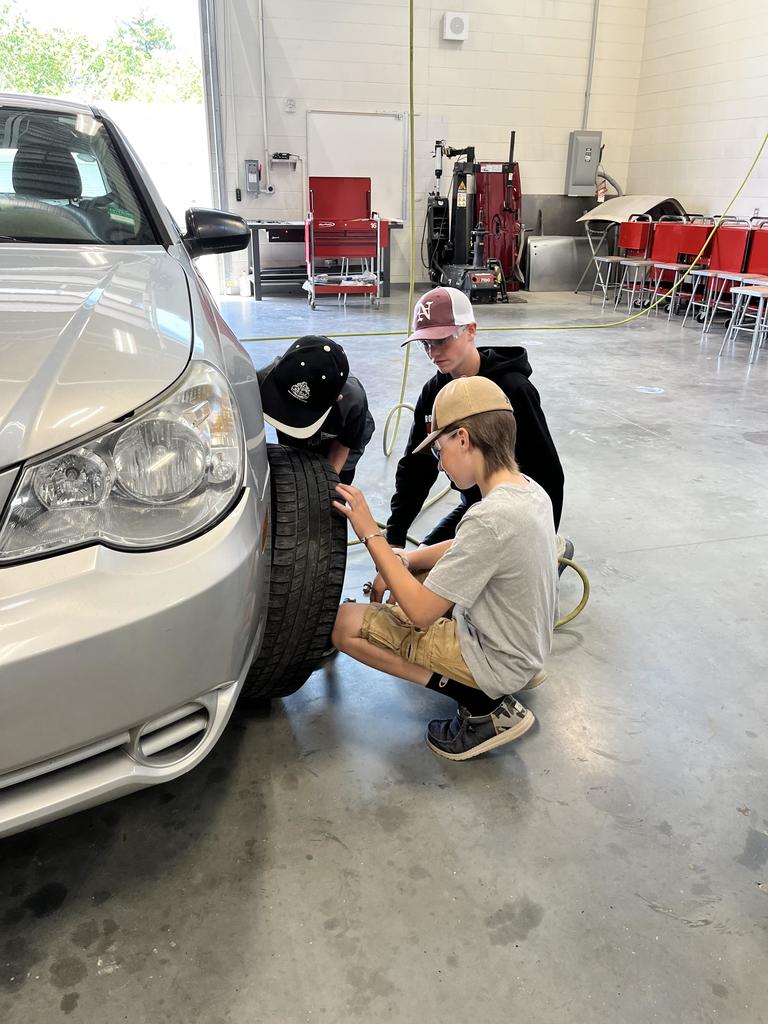 Campers in SRTC's Middle School Camp are having a great week! Here are some photos from our Law Enforcement and STEM A programs.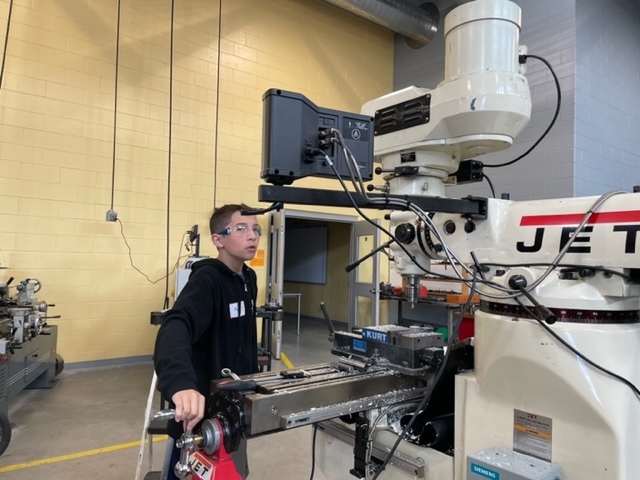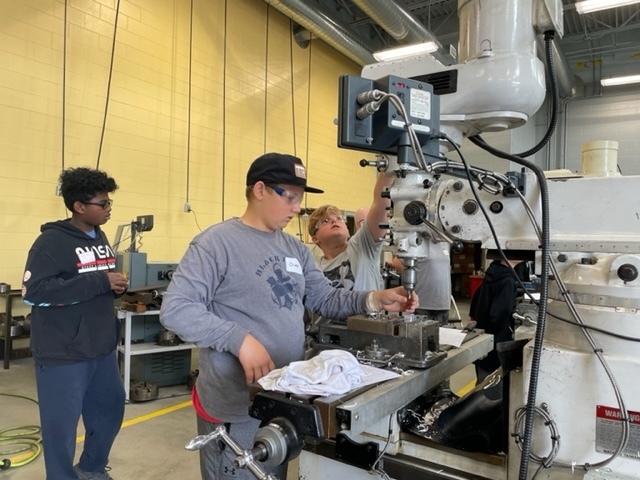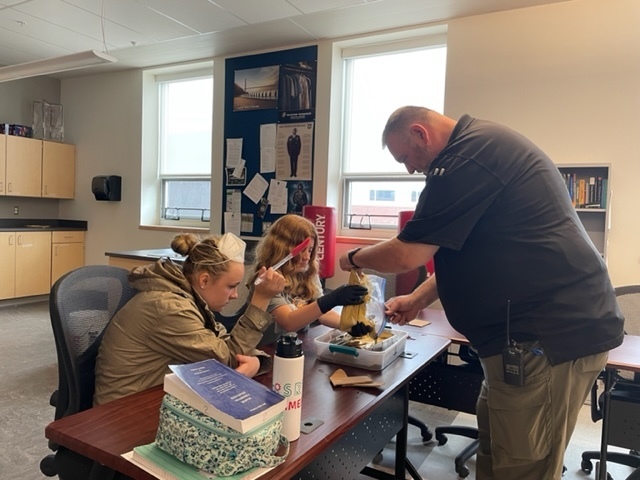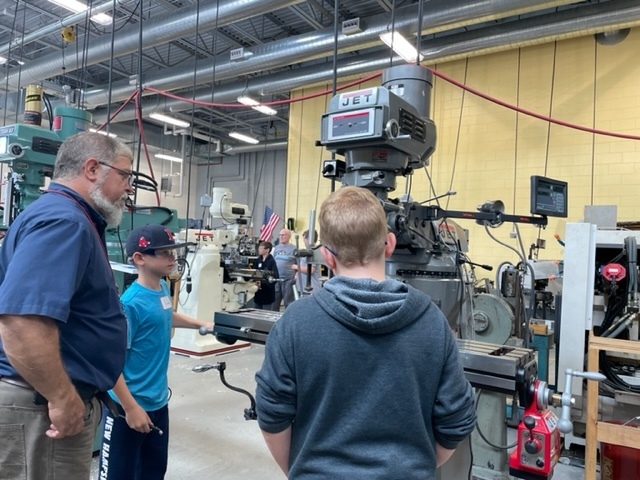 SRTC's Recognition Night was held on Thursday, May 26th at 6:00pm at Alumni Stadium. Over 250 students were honored for completing a one or two year program at SRTC. Watch Recognition Night on the WSSR-TV You Tube page at
https://www.youtube.com/watch?v=jPKgFlnHQyE
.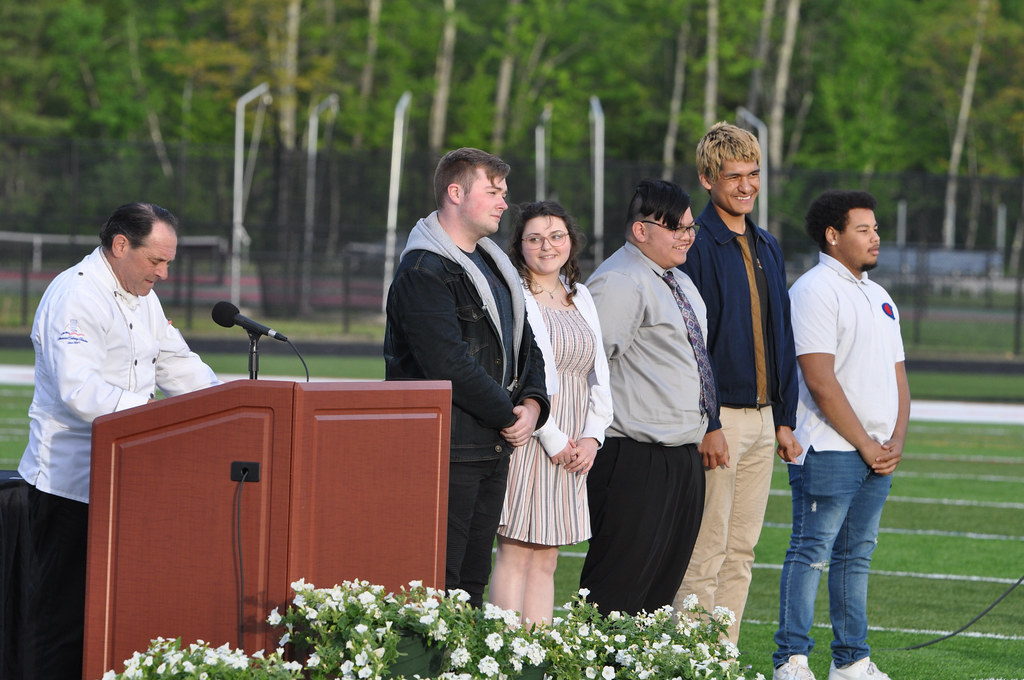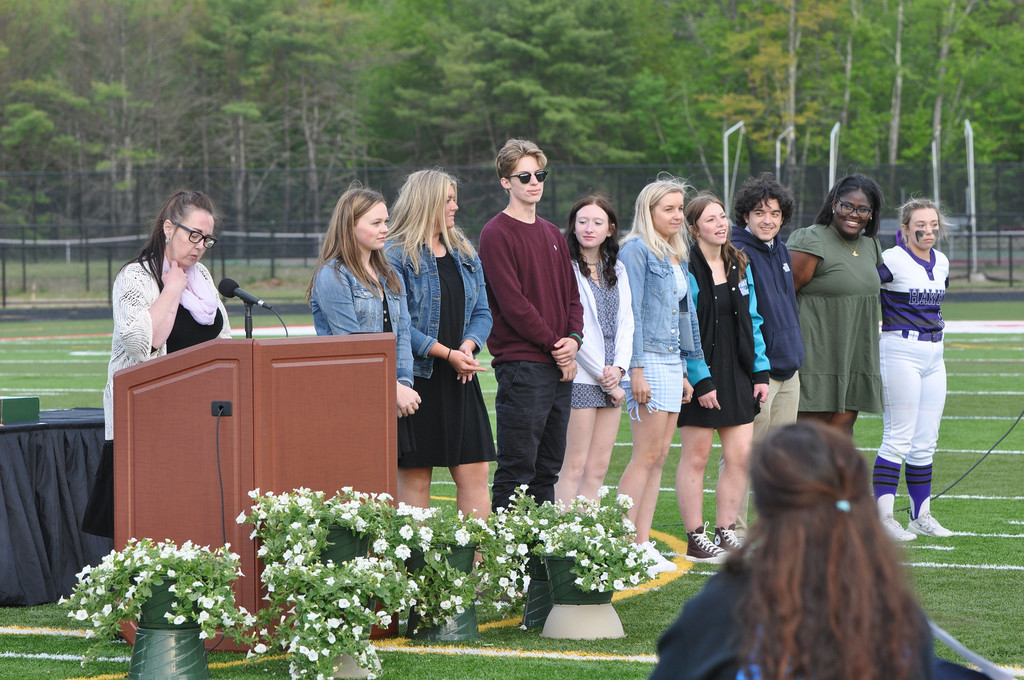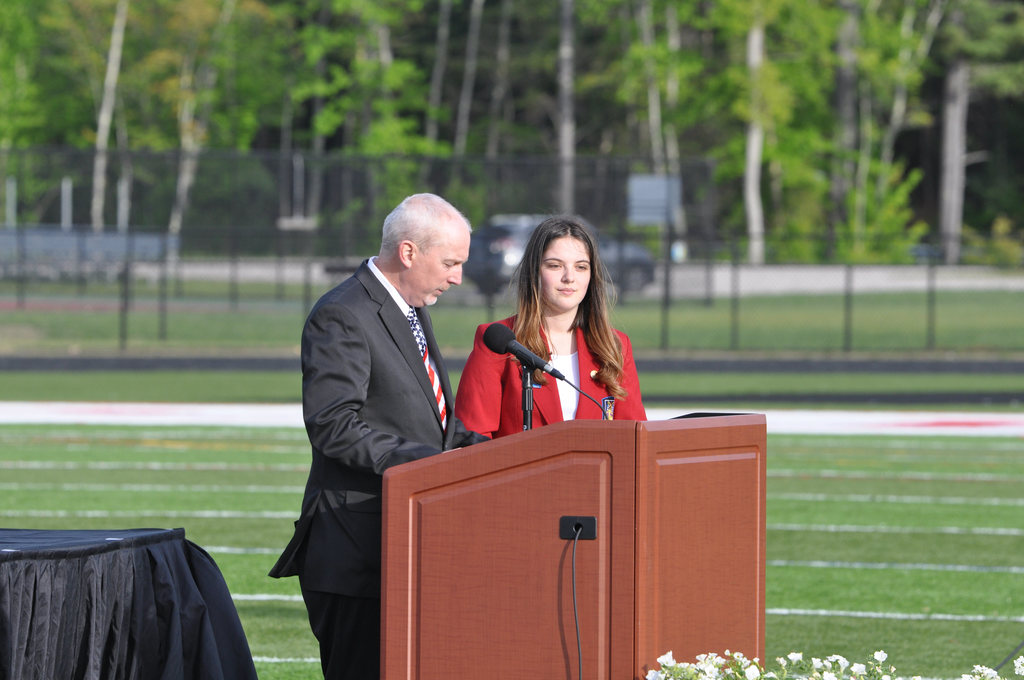 SRTC students, Looking for part-time or full-time employment? See our list of employment opportunities here:
https://5il.co/1bcdo
.

SRTC was happy to welcome our partner district Superintendents and School Committee members for our first in-person meeting in some time on Friday, May 6th. Guests were treated to lunch in the SRTC Culinary Arts Cafe and then heard from SRTC students through a panel discussion and the opportunity to meet in a small group with SRTC students from their district. This event is an annual favorite for many and this year was no exception. Thank you to our SRTC students who served on the panel and those who agreed to meet with their district guests to talk about their experiences at SRTC. Thank you also to Chef John Couture and his students who provided a lovely lunch.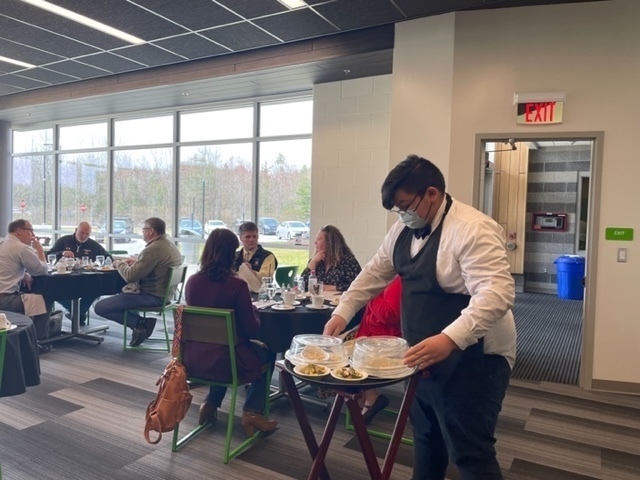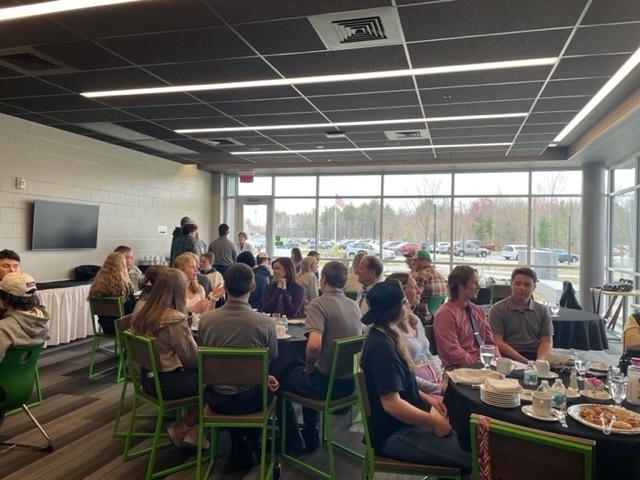 Attention High School Students and Recent Graduates: Join Kennebunk Parks and Recreation and local businesses for this event happening today and tomorrow. The Learning to Earning Trade Show takes place at the Kennebunk Town Hall Auditorium on Friday, April 29th from 5:00pm to 8:00pm and Saturday, April 30th from 9:00am to 12:00pm. Registration at
www.kennebunkrec.com
is encouraged but walk-ins are welcome!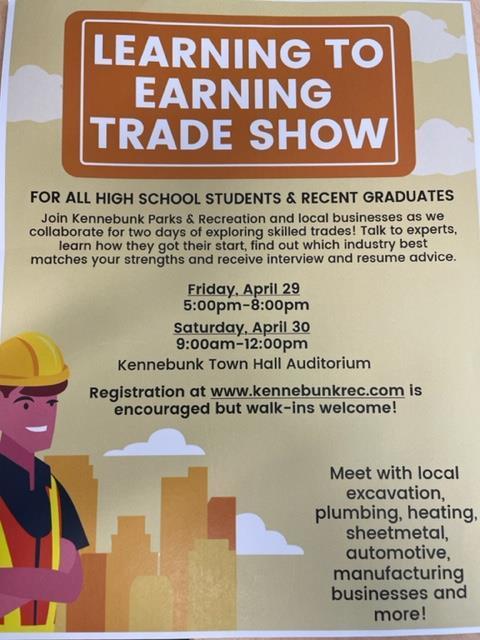 We are beaming with pride over this news story celebrating yesterday's Skills USA Maine Competition. Skills USA Maine officer, local officer, and Early Childhood Education student Lucille Utgard and Academy of Business student Devyn Hussey did an amazing job being interviewed during the event. We look forward to the awards ceremony on March 30th.
https://www.youtube.com/watch?v=ZXEEHTTb2Yo
.

Students in the SRTC Fire Science program were trained in vehicle extrication techniques this week, under the guidance of Instructor, Captain Harold Smith and Captain Watkins from the Sanford Fire Department. Students did an excellent job and SRTC's Career Exploratory students were also able to observe. Many thanks to Captain Watkins for his time!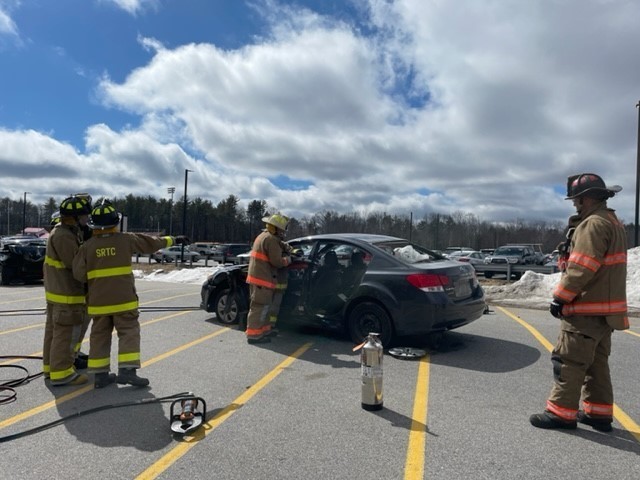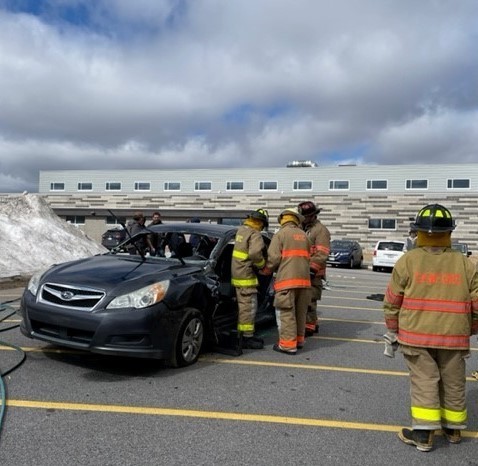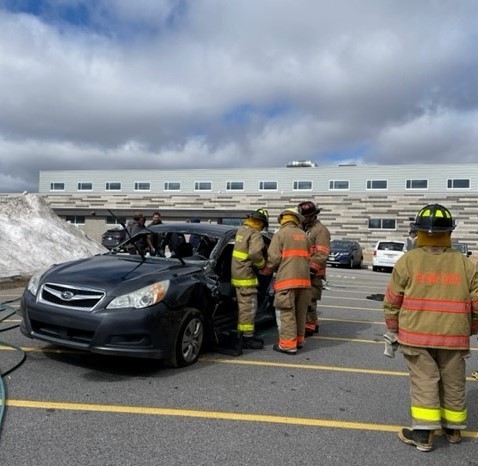 Students in the SRTC Culinary Arts program are getting the seasoning just right for their Greek inspired soup. They have been using their soup making skills this month as part of the Lenten meals being served by the Knights of Columbus.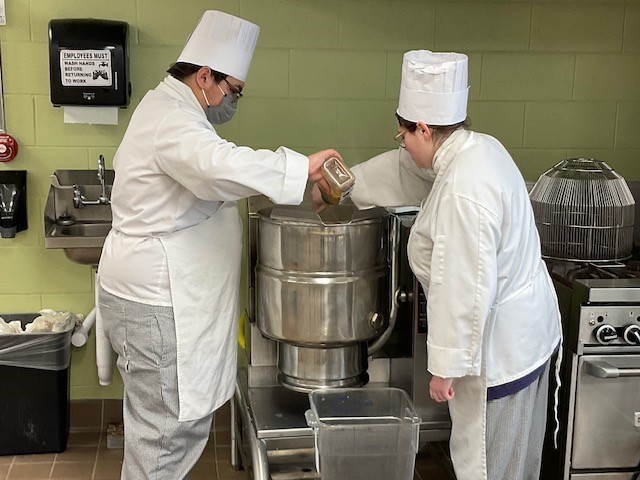 Best of luck to students in the Engineering Applications with Robotics Program at SRTC, who are preparing to complete in FIRST Robotics events in Waterville this weekend. These challenging events are described on the FIRST website as the "Ultimate Sport of the Mind." The website further describes the events as follows, "Under strict rules and limited time and resources, teams of high school students are challenged to build industrial-sized robots to play a difficult field game in alliance with other teams, while also fundraising to meet their goals, designing a team "brand," and advancing respect and appreciation for STEM within the local community." This year, our team has been working diligently to design, build, and program a robot to succeed in the game, which involves launching a ball into hoops at various heights and maneuvering the robot to climb. The students are pleased to compete in the first events to be held in person in two years and they feel confident and proud of their success in preparing for competition. Although spectators are not allowed for the event this weekend, it will stream on the NEFIRST Blue channel at
www.twitch.tv/nefirst_blue
. Good luck, Team 3451! The photo shows students from the AM session of the program posing with the robot for this year's events.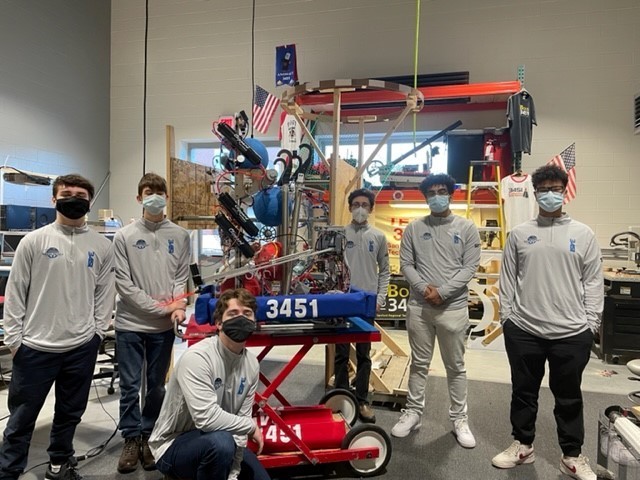 Welcome back from vacation! There are just four days left to apply to SRTC for enrollment for the 22-23 school year. Applications are due by midnight on Friday, March 4th. Our Admissions Open House for prospective students will be held this Wednesday, March 2nd from 6:00pm to 7:30pm at 100 Alumni Boulevard in Sanford. We hope to see you there!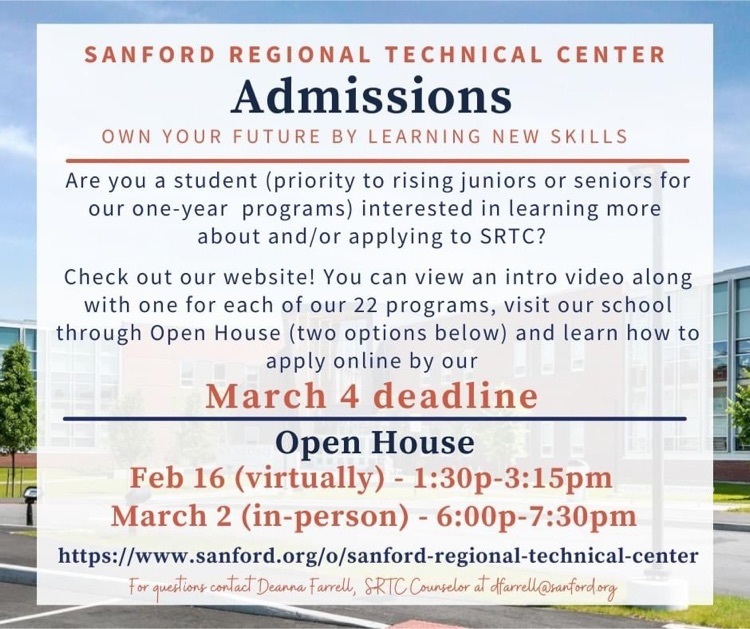 Do you like to create, design, assemble, build, or repair things? Are you comfortable working with computers, machines, and equipment? Do you enjoy knowing how things work? There are many programs that may be a perfect fit for you in the Science, Technology, Engineering, and Mathematics (STEM) Pathway.
https://youtu.be/EUPHw6QLls4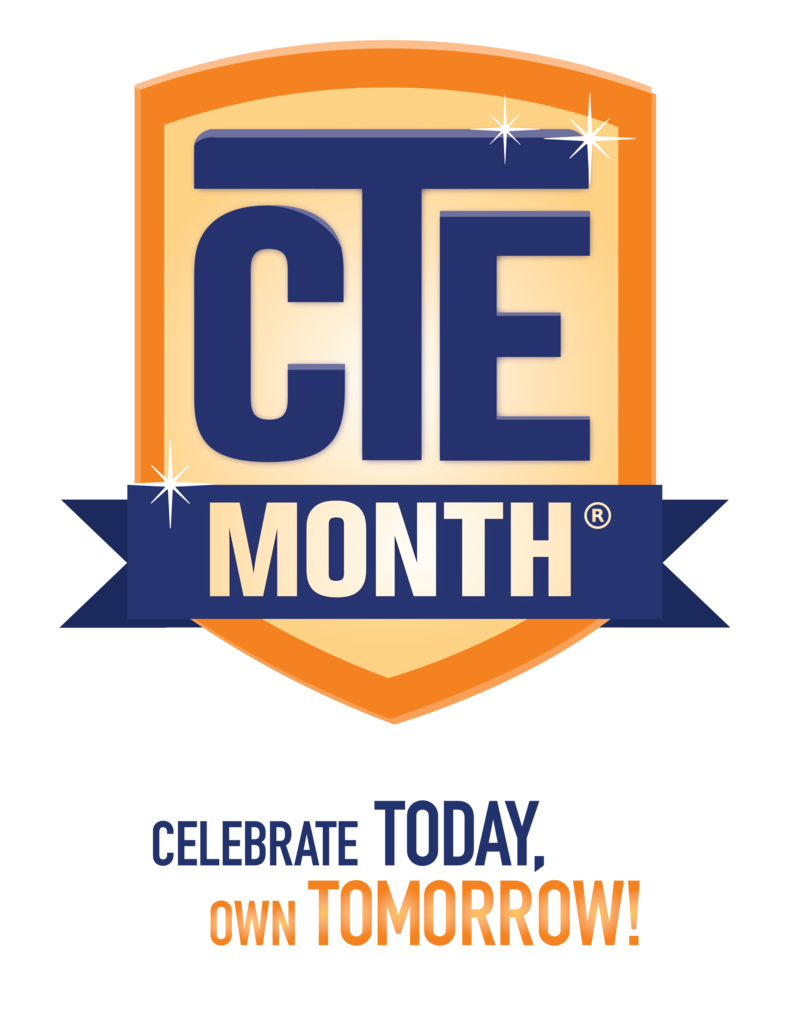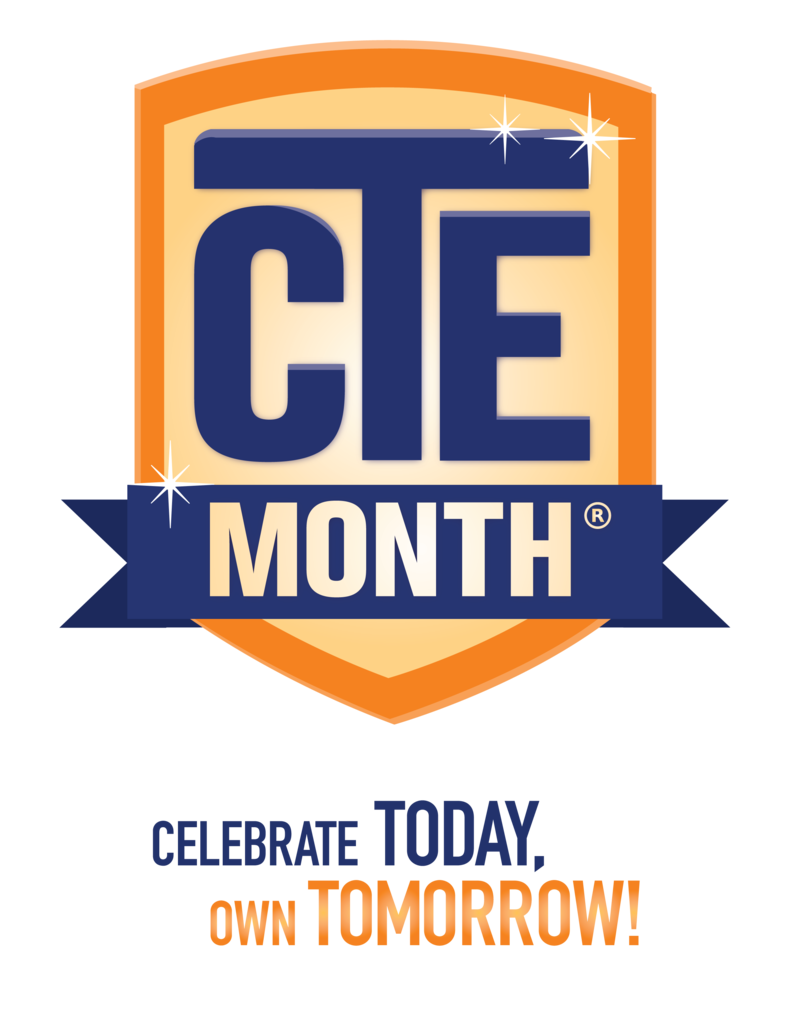 Please note that tonight's SRTC Admissions Open House has been rescheduled to Wednesday, March 2nd from 6:00pm to 7:30pm. We apologize for any inconvenience that this change may cause.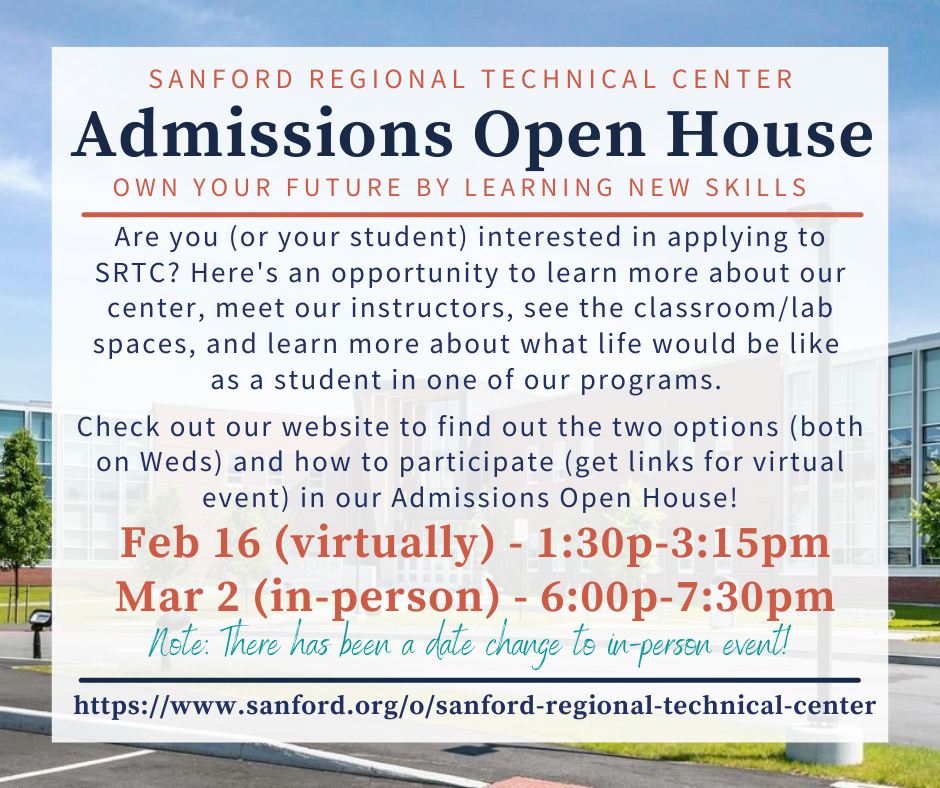 Do you think of yourself as an entrepreneur? Do you take pride in creating a product to share with others? Do you enjoy promoting ideas and solving problems? Maybe a program in the SRTC Business and Marketing Pathway would be a good fit for you. Check out our programs today!
https://www.youtube.com/watch?v=_sozYdAiFHM&t=508s