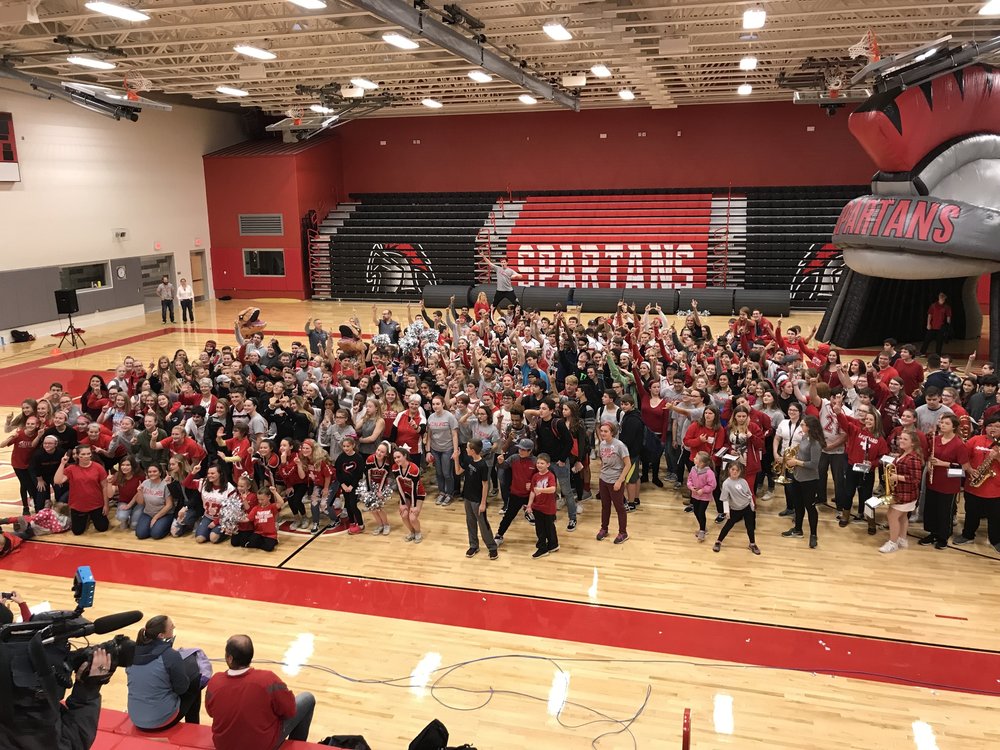 Sanford Schools Newsletter 11-5-18
David Theoharides
Friday, November 09, 2018
Sanford School Department – Sanford, Maine 04073
Website - www.sanford.org - November 4, 2018

Sanford Rallies for the WGME 13 School Spirit Challenge
Sanford High School "Fight" Song
Maine Youth Leadership Conference
Submitted by SJHS JMG Master Specialist Tara Houle
This past Friday JMG students from SHS and SJHS attended the Maine Youth Leadership Conference at Hyde School in Bath. Over 1,200 students from across the state attended leadership seminars throughout the day. 9th Grader Skylar Burton and 7th grader Aiden Lanteigne were two of ten students chosen to participate on a student panel to speak about leadership in front of all who attended!
Escape from SweeneDracula's Castle!
Submitted by SJHS Teacher Meghan Look
As a spooky treat for the 6th grade math classes, Mrs. Sweeney and Mrs. Look did their second annual Escape from SweeneDracula's Castle. This was formatted as a simple virtual escape room using Google forms, and students worked through puzzles around the classrooms to unlock the "locks". The puzzles were all based on their current math standards, which focus on converting between fractions, decimals and percents and finding part of a whole. There was a sweet treat at the end for all students.
Coding at SJHS
Submitted by SJHS Principal Pamela Lydon
Mrs. Williams works with 7th grader on Coding. These students are working diligently on creating their own website by using the skills they have learned. Each student is being creative with their designs that will go public for others to view once approved. The ideas ranged from sharing math skills, a venue to share personal interests/hobbies from the different types of sushi a person can buy. The kids were engaged and excited to share what they have learned with Coding!
Bus Safety Week at MCS
Submitted by MCS Principal Chuck Potter The week of October 22nd was Bus Safety Week. On Tuesday, October 23rd, all of our students at MCS participated in mandatory bus evacuations drills. The bus drivers from Ledgemere reviewed bus safety rules and why the rules are necessary. The presentation concluded with the drivers assisting our students in evacuating the bus from its emergency exit. Pictured are some of our students practicing evacuating from the bus.

>td >
Having a Pizza with a Monster while Coding with the Family!
Submitted by Deb Rosa Technology Integrator K-8
Well, after all, this was Halloween week and a full moon to boot! So why would having a Pizza with a Monster while Coding with the family be so unusual!? We're just howling over this!!
Seriously though, this week teachers at Willard had an opportunity to view the latest OSMO kits. In between teachers coming in and viewing these new kits, students in Mr Benham's classes were able to get the chance to work on the Monster, Pizza, and Coding OSMO kits. Monster allows for creative thought and drawing process while communicating directly with the cute and cuddly bear like 'monster.' Pizza helps students experience a business like environment, taking orders from customers and making pizza's.. They also get paid, count out change and get reviews from the customers. Coding Awbie and Coding Jam, allows students to direct characters in their adventures and create music though coding. If you look really close you may see a Halloween guest that worked himself to the bone! Please e-mail me if you know who this is and I can 'fill him in' on all OSMO KIts!
If you would like more information or a lesson with the OSMO kits, please e-mail me at: drosa@sanford.org
New SHS Agora Named for Superintendent
Submitted by Business Administrator Gwen Bedell Gadbois

Despite the weather, it was nothing but smiles at the Sanford High School and Regional Technical Center this morning. The School Spirit Challenge was the feature story on the morning news - wow, that was quite a crowd in the gymnasium. Go Sanford!

For those of you who were not able to attend the Grand Opening this past Sunday, the School Committee presented Superintendent David Theoharides with a plaque to name the Agora Presentation Area in his honor. Congratulations Superintendent Theoharides!
SHS/SRTC Grand Opening Celebration
Video by WSSR-TV
Willard Students Paint the Town!
Submitted by Willard School Principal Susan Inman

The following 5th grade students from Willard School created Halloween window designs for our downtown:

Brianna Burby Karmin Kendrick Maddie Fagen
Reading Celebration at MCS
Submitted by MCS Principal Chuck Potter Last Tuesday Mr. Pickering's third grade reading group from Mrs. Daly's room celebrated the conclusion of their "Small Moment" writing. The students worked on focusing and staying on topic with describing the small moment that they remembered. The stories shared were humorous as the students' voice as writers were evident. Pictured are some of the students who shared their writings.
SUBSTITUTE CUSTODIANS NEEDED!
For more information:
Click here