Sanford High School and Regional Technical Center hosted its "Celebrating Partnerships" event on Thursday, March 30th.
The event celebrated students who have earned internships through SRTC programs and was also an opportunity for local partnerships to network with the school and community members.
It also celebrated existing partners, SRTC's Program Advisory Committee members, and new partners.
SRTC Principal Kathy Sargent and Career Exploration Coordinator Katie Schindler discussed the importance of building connections and maintaining relationships through these programs.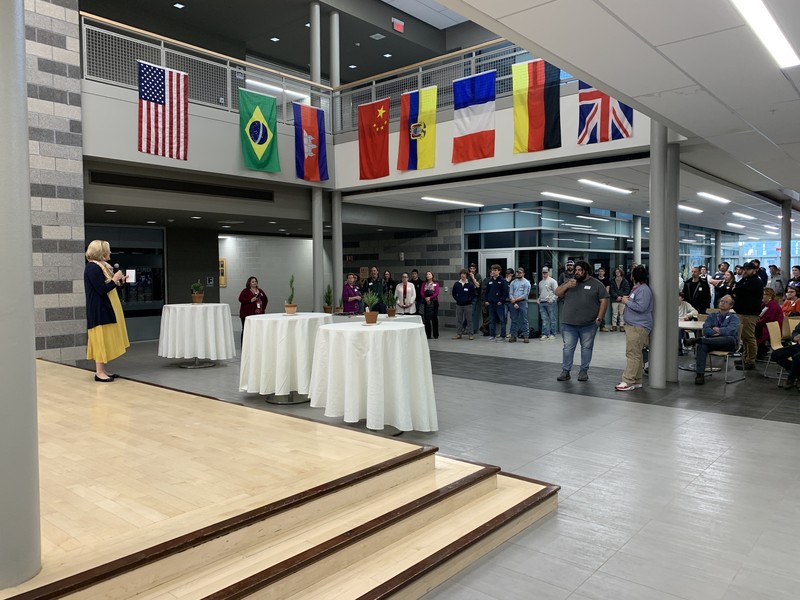 There was a student panel where SRTC students from building trades, electrical wiring, and firefighting programs were asked questions about their internships.
The students talked about the skills they developed through the SRTC programs and how it helped prepare them for their internships.
Aside from their technical skills, they also discussed other things they learned through the SRTC programs that helped them. Some students emphasized the social skills they learned that have helped them with their internships.
Following the panel, Program Advisory Committee members and instructors met. New partners enjoyed a tour of the building and further discussion about opportunities to connect with SRTC on projects and student employment.
SRTC would like to thank Chef John Couture and the Culinary Arts students for the d'oeuvres they prepared for the event and Pam Durack and the Horticulture Program for the table arrangements.
The event was funded through the school's grant from the MELMAC Education Foundation.