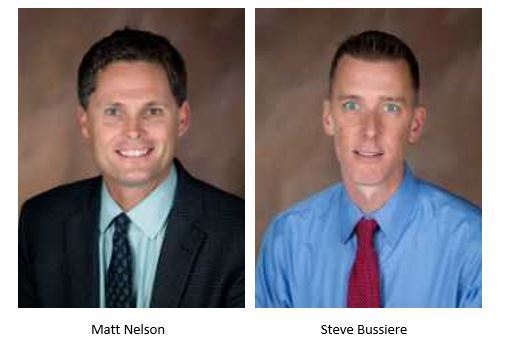 Sanford Schools Announce New Leadership
Liz Dudgeon
Monday, December 31, 2018
Sanford, ME – December 21, 2018
The Sanford School Committee has named Matthew Nelson as the new Superintendent of Schools effective January 1, 2019. Nelson will replace Superintendent David Theoharides as he retires from the position he has held since 2011. The School Committee also named Steven Bussiere as Assistant Superintendent.
Matt Nelson has been Sanford's Assistant Superintendent since December, 2015 having received his Bachelor of Arts degree in Communication and Business from Saint Joseph's College in Standish, and his Master of Science degree in School Counseling from the University of Southern Maine. Prior to coming to Sanford, Nelson served as Principal at Westbrook Middle School for five years. Nelson also served as Athletic Director for the Westbrook School Department, guidance counselor at Bonney Eagle High School in Standish and was named 2014 Middle School Principal of the Year by the Maine Principal's Association.
Steve Bussiere has been part of the Sanford School Department team since September, 1999, working first as a classroom teacher and then as a Teacher Leader before joining the administration team at Carl J. Lamb Elementary School in 2006. His credentials include a Bachelor of Arts, a Master of Teaching and a Certificate of Study from the University of Southern Maine.
School Committee Chair Roux stated, "I am very excited to have Matt and Steve assume leadership of our schools; their familiarity with our community, their leadership skills and their enthusiasm will serve our students, staff and community well." Roux also extended his appreciation to retiring Superintendent David Theoharides. Theoharides is retiring after 42 years in education in Maine, but will continue to assist the district as it finalizes the high school construction project.
###