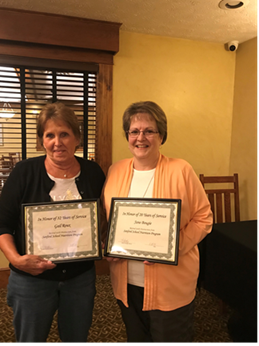 Best Wishes to Gail and Jane!
Holly Hartley
Friday, September 27, 2019
On Wednesday night, the Sanford School Department's School Nutrition Program staff gathered at the Oak Street Bistro to celebrate the retirement of two staff members. Over the summer, Gail Roux made the decision to retire after 32 years of service to the program. Jane Bougie also made the decision to retire this summer after twenty years of service. We are happy and excited for Gail and Jane as they enter this new chapter of their lives!