Sanford Pride and MCS Families, we hope that you can join us for a Spooktacular Trick or Treat Walk Thru event on Thursday, October 28th from 5:30-7pm at MCS School along the Fire Road. Please the attached flyer for more info and scan the QR code if you're able and willing to help make this event a spooky success!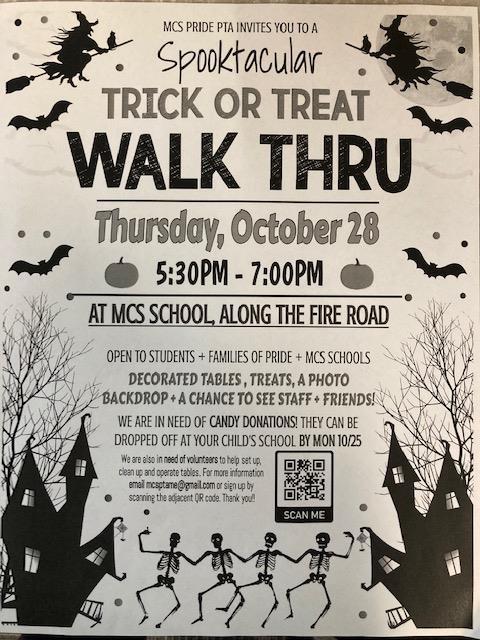 Hello Pride Families, October 18th-22nd is National School Bus Safety Week. Please watch this video as a reminder of the laws surrounding stopped school buses.
https://youtu.be/Ybrzj-ULjeE
Thank you for supporting bus safety.
Reminder for Pride Families. School pictures are on Tuesday, October 12th.
Pride families: Cafe tables delivery rescheduled to tomorrow 10/6. As a result see updated menu: No WOW option. Breakfast: Juice, Whole Wheat, Cinnamon Bun & Craisins Lunch: Mozzarella Sticks w/Marinara Dipping Sauce, Wango Mango & applesauce cup No school 10/8 or 10/11 Picture day: 10/12
Hello SPE fams: Due to arrival/set up of our new cafe tables, we will have a change in our breakfast menu for Tues, 10/5 (no changes to lunch). 10/5 Breakfast: Cinn. cream cheese filled Bagels Craisins Juice Picture packets are going home today! 10/12 Picture Day. 10/8, 10/11 NO SCHOOL
Hello SPE! Please read a message from our Kitchen Manager: Due to not getting our Fresh Fruit Veg Program delivery and a milk shortage we will not be able to serve healthy snack or snack milk tomorrow, Friday 10/1. No accounts will be charged. We apologize for the inconvenience.
Families … Thank you for your support as we continue to manage COVID 19 in our school buildings. In an effort to prevent the spread of COVID-19, we have been working closely with the Maine Department of Education to implement a free COVID-19 pooled testing program for our students and staff. Sanford Pride Elementary will begin testing on Tuesday, 9-28. For more information and to register click here. To prepare your child, we recommend watching this short video with your child. Our staff will also explain the process to students prior to testing and walk them through the testing process.
Sanford Pride Elementary is happy to announce that starting September 13, 2021, we will be bringing back the Snack Milk program once a day to K-4th. Your child(ren) will be offered chocolate, low-fat white and skim or orange juice for $.50. You are more than welcome to send money on a daily or weekly basis. MySchoolBucks is also accepted. Please let your child(ren)'s teacher know if you plan on participating in the Snack Milk program so that kitchen staff can plan accordingly.
Good afternoon, Pride families! Unfortunately the PTA Block Party that was scheduled for tomorrow, Friday, September 10th has had to be cancelled. We apologize for the inconvenience. Have a good evening.
Good morning, Sanford Pride families! We are already in the middle of our second week of school- can you believe it?!? This is just a reminder that today will be our first Early Release Wednesday. Dismissals will begin one hour earlier than the other days (at 1:55). Busses will be at their stops an hour earlier as well. Please plan accordingly. Have a great day!
Good afternoon, Sanford Pride Elementary families! This is a reminder that there will be no Early Release this Wednesday. Early Release Wednesdays will begin on September 8th. Students will be dismissed one hour early on Wednesdays starting next week. Thank you!
Good morning, Pride Parents! For the safety of your children, we have the following information and reminders: 1. Parent drop-offs BEFORE 8:30 MUST happen in the lower parking lot. 2. The drop-off lane in the front of the school is reserved for BUSSES ONLY until 8:30. 3. Parent drop-offs happening AFTER 8:30 MUST happen in the front of the school so that students can get checked in by the office and taken off any absence lists if needed. 4. Parent pick-ups at the end of the day MUST happen in the lower parking lot. 5. Parent pick-ups during school hours MUST happen in the front of the school so that students can be marked accordingly. Additionally and for TODAY ONLY: all parents who are new to Willard/Pride should plan to arrive at 2:45 in the lower parking lot WITH THEIR IDs in an effort to get familiar with our new parents who plan to pick students up on a regular basis. Check out this helpful video:
https://youtu.be/Sks_0urg9mo
Hello Sanford Pride Elementary families! We hope you'll join us on Thursday, August 26th from 5:30-7pm for our Open House for grades K-4! We're looking forward to seeing all of our 21/22 families! Masks required. See you there!
August 9, 2021 Dear Parents, Families and Students: I do hope this letter finds you well and that you are enjoying a healthy and fun summer! We are excited to welcome you back to our new school, Sanford Pride Elementary School! Welcome Kindergarten! This will be our first year with kindergarten students' and their families; again, we are very excited to have you with us. Below is information for your kindergartners: Kindergarten first day of school is Weds. Sept. 1st. Bus Tag (for kindergartners) Enclosed you will find a bus tag that will contain information about your student (name, address or sitter information, teacher's name and bus number). Each tag will contain a dot that corresponds to the color of the room that your student has been assigned. All of our kindergarten classes will be marked with a matching color visual outside their classroom. * Please check your address, and sitter information (if applicable) to assure that they are correct, and notify us immediately if there are any changes. All bussing is based on addresses, so it is imperative that it is correct for the beginning of school. *Please attach your child's bus tag to your child's backpack so it is visible to both the driver and staff members. If you are able, please practice with your child their bus number and teacher's name. *Please send in a note or call the school if your child goes to a different address or will be picked up. Bus Information If you have any questions regarding your pick up times or locations, please contact Ledgemere at 324-4888 or visit the Sanford School website for bus information. Please note that pick-up and drop-off times are approximations. The first few days are when the bus drivers are finalizing their run times. It is good practice to have your child at the bus stop 10 minutes before pick-up time. Ledgemere Transportation has a very strict policy regarding an adult meeting a kindergarten student at the bus stop. The policy states that a kindergarten student will not be permitted off a school bus unless an adult is waiting for the child at the bus stop. If an adult is not present, your child will be returned to school at which time the parent is notified. Additional highlights for all K-4 students Dates: Thursday, August 26 from 5:30-7:00 Open House for grades K-4 Monday, August 30th First day of school for grades 1-4 Wednesday, Sept. 1st – First day of school for kindergartners Friday, Sept. 3rd – No School Monday, Sept. 6th – No School Tuesday, Sept. 7th – school resumes for all students, K-4 Sept. 8th – all students dismissed at 2:00PM, First Early Release Day Service Dogs - As some of you know, we have been very fortunate to have service dogs as part of our school community for the past three years. We are planning to have our service dogs continue their important work at Sanford Pride for this school year. Our service dogs are: Willow and Ory (handler is Christen Suratt, special education teacher), Dodger (handler is Liz Cyr, social worker) and Luna (handler is Laurie Keene, guidance counselor). Service animals are working animals, not pets. Our service dogs will provide support throughout our school. Service dogs provide companionship, affection, security, calming influence, and function as an additional aid throughout our school community. While at school, students and staff are encouraged to greet our service dogs and also may request to have a service dog visit a classroom. The students will be made aware of how to conduct themselves around our service dogs and learn that they are not pets while they are working but rather a tool to help students improve academic, social and independent functioning skills. Should you prefer that your child not touch or come in to contact with our service dogs, please complete the form included and return it to the school on the first day. If you have any questions or concerns, please contact me. Student Drop Off Students should be dropped off at school between 8:05 and 8:25 am each morning. As a friendly reminder, our start time is 8:25 a.m. Any students arriving after 8:25 am will be marked tardy. Early Release Days Early Release Days will continue to take place on Wednesday afternoons and students will be dismissed at 2:00 pm. The first Early Release Day will take place on September 8th. Arrival and Dismissal For those students who will be dropped off and picked up each day, we ask that you follow the guidelines below: Please use the lower parking lot (nearest to Memorial Gym) to drop off and pick up your child each day. o Students are allowed to be here starting at 8:05 AM. o Students need to be picked up each day by 3:20 PM. o Our school day begins at 8:25 AM. o Our school day ends at 3:00 PM. During the first week of school, parents and families will be given a yellow tag to display in their car window. The information includes your child's name and 2 emergency contact names. Thank you for displaying this in your car window as we dismiss students in the afternoon. Bus information Bus information for your child can be found within this packet and on the Sanford School District website. If you have any questions regarding your pick up times or locations, please contact Ledgemere at 324-4888. Please note that pick-up and drop-off times are approximations. The first few days are when the bus drivers are finalizing their run times. It is good practice to have your child at the bus stop 10 minutes before pick-up time. Walkers – 2nd, 3rd or 4th grade walkers: 1. A child who leaves the school at regular dismissal time 2. Will walk to their parent who is waiting outside of the building or walk to their after-school destination 3. Has WRITTEN permission from their legal guardian (the note can be given to the office on a day-to-day basis for out-of-the-ordinary situations, or the note can be given once at the beginning of the year stating that the child will be a walker on a daily basis) 1st grade walkers: 1. Leave the school at regular dismissal time 2. Will be escorted outside by one of their classroom teachers 3. The classroom teacher will report with the children to the same location outside everyday 4. Have WRITTEN permission from their legal guardian (the note can be given to the office on a day-to-day basis for out-of-the-ordinary situations, or the note can be given once at the beginning of the year stating that the child will be a walker on a daily basis) 5. The classroom teacher reserves the right to request ID from ANYONE who is picking up a child from school 6. If no adult is outside to pick up the child at dismissal time, the child will return to their classroom with their classroom teacher Visitors and/or parents, families in the building As you may know, we need to limit the amount of people in our building at this time. If there is a circumstance that requires you to pick-up your child during the day, we ask that you: - Pull into the front of the school and park - Call our office phone and let us know you are here to pick up your child We do appreciate planning ahead and sending in notes with your child for those times that he/she will be dismissed early. On behalf of our staff, I thank you in advance for your support as we begin a new school year. Please contact me with any questions, concerns or ideas. Gratefully, Susan Inman, Principal