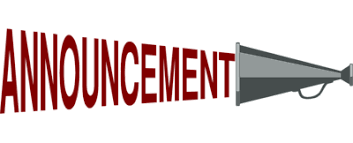 SHS Daily Announcements 01/31/19
Cynthia Pattershall
Thursday, January 31, 2019
SHS Daily Announcements 01/31/2019 White Day
The JH and HS Cheerleaders will be competing in the Cheers from the Heart Competition on Saturday, February 2nd at Biddeford High School. This competition is a fundraiser for local families in need. Please come out and support our cheerleaders and the community. Middle School Competition starts at 2:30 p.m. High School Competition begins at 4 p.m.
Winter Ball will be Friday, February 15th from 7-10pm in the practice gym. Cost is $8 for the tickets on sale the week of and $10 at the door. If you are bringing someone from another High School, please be sure to have a dance guest form filled out and brought to A237 by February 13th.
If there is anyone in need of a winter coat, please see Mrs. Williams in A242. She has many great options to choose from.
FOR SALE AT SHS
SPORTS ANNOUNCEMENTS
CLUBS AND ORGANIZATIONS
Civil Rights Team will meet every Monday in Room B235.
Health and wellness club meets daily after school in the fitness room! All students and staff are welcome! Need a fitness plan? Get down here! See Coach Way with Q s.
Anime Club meets now on Fridays 2-3:30 in Room B243.
Key club is at 6:30 every Monday in the Sanford high school cafeteria.
Chess and cribbage will be held every Tuesday in room D228 from 2:20 to 3:30. All are welcome.
Art Club will be held every Thursday from 2:20 to 3:30 in Room B147.
SHS Peer Helper meetings are Tuesday at 7:20 in the small cafeteria (if you bus/ride get you here later than that please join us when you arrive). Help continue the positive school culture at SHS by being part of a variety of events...#justakidfromsanford, student tours, Thanksgiving baskets and much much more.
SLAM (Spartan library advisory meetings)- Create the library program that you want! Meets Thursdays during ST. If interested in joining, come see Mrs. Raymond in the library.
Sanford High School and Sanford Regional Technical Center support the FOOD BACKPACK PROGRAM. Students receive backpacks full of non-perishable food weekly to take home. We really need backpacks to make this program happen. Please donate NEW or USED backpacks. Also, if you would like to know more about these resources please see your School Counselor.
If you would like to donate New or slightly used Clothing, Shoes, Coats, Hats etc. please see Ms. Williams in Rm A242.
If you have any announcements you would like added please email them to cpattershall@sanford.org by 8:30am. Please specify how long you would like them included.
Job Opportunities
Community Service Opportunities
For Spoiled Pets is a non-profit organization located in Lebanon which takes in rescued animals. If anyone is interested in volunteering to get hours they can email Renee @ forspoiledpets@gmail.com
Curtis Lake Church Soup Kitchen needs help every Wednesday and Thursday from 5:30 on setting tables, serving meals and cleaning up. See Mrs. Pattershall in Room A237 if interested. Serve once, or as often as you need/want.
Random Fact of the Day: Arizona and Hawaii are now the only states that don't observe daylight savings time.
Life Hacks from your school nurse: Make Sure to Always Brush Your Tongue. If you want to get rid of bad breath, brushing your teeth is important but what's more important is brushing your tongue. Most of that stinky bacteria hides in your tongue, and will spread back throughout your mouth if you don't take care of it.
Lunch Today: Pizza Triangles (Choice of Ham or Cheese), Caesar Salad, Sweet Pepper Strips, Fresh Grape