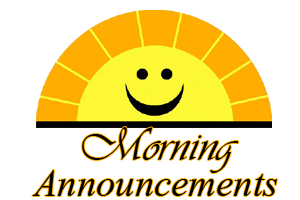 THURSDAY, JANUARY 31ST
Tracy Cole
Thursday, January 31, 2019
TODAY IS A RED/C DAY
Today is an 8th grade band and lesson day. Group One lessons meet today. 7th & 8th grade festival band students will practice today from 2 to 3:30. There is no Jazz Band this week.
Karaoke club meets this afternoon from 2 - 3:15 in room 13. Everyone is welcome!
Cooking Club will take place today after school.
Sign ups for Sanford's Got Talent 2019 - our SJHS talent show - have begun!!! You can grab your sign up sheet on the stage in the cafe, in the office, in guidance or from outside room 29. All types of acts are welcome! Yo - Yo tricks, to acrobatics, to break dancing and comedy! Can you roller skate on one foot while juggling? Excellent! We want you! And you can win $100 CASH! Grab your sign up sheets today and return to Mrs. Houle as soon as possible.
The JH and HS Cheerleaders will be competing in the Cheers from the Heart Competition on Saturday, February 2nd at Biddeford High School. This competition is a fundraiser for local families in need. Please come out and support our cheerleaders and the community. Middle School Competition starts at 2:30 p.m. High School Competition begins at 4 p.m.
The Sanford STEAM team will be meeting in the library starting on February 5th and continuing every Tuesday and Thursday from 2:00 - 3:30. We will have access to two 3D printers, Lego Robotics, cameras, electronics, and more. There will be posters around the building with information and a link to a sign up or see Mrs. Williams for more information.
After school bowling begins February 7th. Registrations are now being accepted at the Bowl-A-Rama. This program is not sponsored by the Sanford School Department.