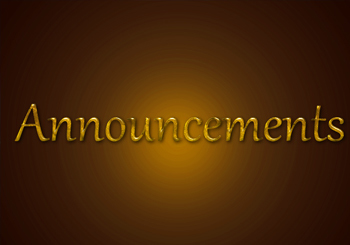 MONDAY, JANUARY 14TH
Tracy Cole
Monday, January 14, 2019
TODAY IS A WHITE DAY
Today is a 7th grade band day and an 8th grade lesson day. Group One lessons meet today. 7th & 8th grade festival band will practice tomorrow from 2 to 3:30.
Today is a 6th grade chorus day and an 8th grade chorus day.
Mechanical Advantage Club meets this afternoon in room 39 from 2-3:15 so that students can prep their CO2 powered cars for racing.
Cadets will meet Tuesday from 2:00-3:00.
Student Council Members- please see Ms. Allen today for an important message
Attention All Wrestlers!!!!!! Any 6th, 7th and 8th Grader interested in or thinking about Wrestling this year, sign ups will be up on the wall in the cafe all week. Remember that you need a physical on file with the school nurse in order to be able to wrestle for the Junior High School Team.
Math club will be assembling this Friday, January 18 from 2-3 in Mrs. Look's room. We hope to see you there!
Student council invites you to join us for the Carnival Dance this Friday from 4-6. There will be carnival related food and games. The cost is $5 but if you pay before Friday, the cost is only $4. Go to the guidance office if you want to get your ticket early.
Thank you to all students who auditioned for High School Musical Jr this weekend. The casting announcement will be held this afternoon from 2:00-3:00 in the library. If you are unable to attend, the cast list will be posted outside Mr. Bellefeuille's classroom door, Room 29, tomorrow morning first thing before school. To anyone who may have missed auditions and is interested in an ensemble role in the cast, please see Mr. Bellefeuille as soon as possible.