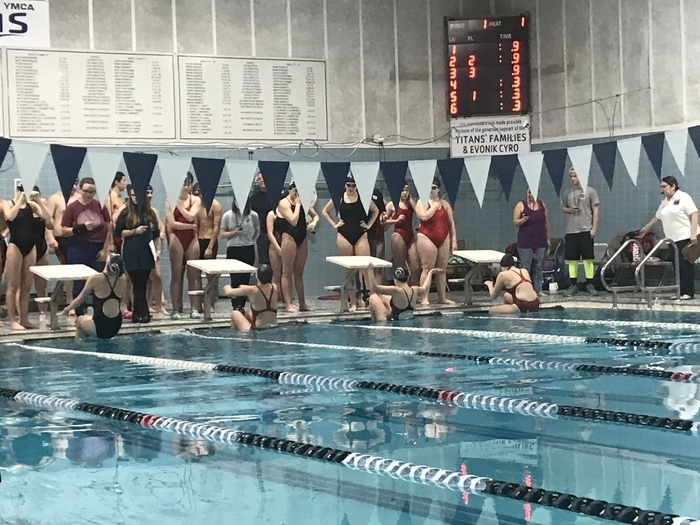 Sanford Spartan Swimmers split meet with Windham Eagles
Matt Petermann
Sunday, January 13, 2019
Saturday afternoon at the Sanford YMCA the boys and girls swim teams battled it out in the pool and netted the girls a 104-59 victory while the boys suffered a 94.5-44.5 loss.
During the meet, Olivia Roux, Celia Perks, Tiffany Twombly, and Valentina Drown won the 200 yard Medley Relay with a time of 2:14:57. Delaney Tanguay won the 200 Freestyle (2:20:06), the 100 Freestyle (1:04:11), and was on the winning girls 200 Freestyle Relay with Olivia Roux, Tiffany Twombly and Teagan Perry (1:55:60). Celia Perks won the 500 Freestyle with a time of 6:25:52. Twombly, Roux, and Perks swept the top 3 positions in the 100 Backstoke. Annie Cyr, Hope Doiron, and Britney Courtois took the top 3 spots in the 100 Breaststroke for Sanford. Twombly and Roux also finished one and two in the grueling 200 Individual Medley.
For the boys, Justin Gould won the 100 Breaststroke with a time of 1:18:83 while also competing in the 100 Freestyle (3rd), 200 Freestyle Relay (2nd), and the 400 Freestyle Relay (4th). Pearson Dideriksen finished 3rd in the 500 Freestyle (8:06.20) with Jason McNickles and Anthony Signore coming in 4th and 5th. Kevin Voter, Tim Leigh, and Corey Drown finished 3rd, 4th, and 5th in the 50 Freestyle. Leigh also finished 2nd in the 200 Freestyle. The 200 Freestyle Relay team of Gould, Leigh, Patrick Powell, and Voter finished a close 2nd with a time of 1:51:39. The team of Felix Meas, Leigh, Niraj Patel, and Voter finished 2nd in the 200 Medley Relay with a time of 2:20:71.
Overall, a good showing by the Spartan Swimmers! #SpartanPride