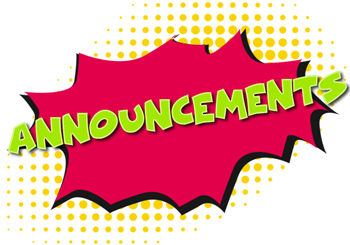 FRIDAY, JANUARY 11TH
Tracy Cole
Friday, January 11, 2019
TODAY IS A RED DAY
Today is an 8th grade band day and lesson day. Group One lessons meet today. 7th & 8th grade Festival Band students will practice today from 2 to 3. The repairman will be here today, so please make sure your instruments are on the table by 8:30.
Today is a 6th grade band day. Full band right after announcements. The lesson schedule will be on the board or on your lesson calendar.

Today is a 7th grade chorus day. Also, a reminder that Chorus students attending the music festival have rehearsal today after school until 3:15.
Today is popcorn Friday and first Friday lunch. Use a respect card for a bag of popcorn or to eat lunch at a different time. Sign up for first Friday lunch in the office.

Please DO NOT send students to the library today to check out books.

BOTH guitar and chess club will be held on Monday in Mr. Pyle's room 23 from 2-3.

Congratulations to Connor Kingsbury and Michelle Morley, both of LC 5, who are our winner and runner up of the 2019 Spelling Bee. Both students will be representing SJHS at the York County Spelling Bee which will be held on February 15th at Sanford Christian Academy. Way to go Connor and Michelle!