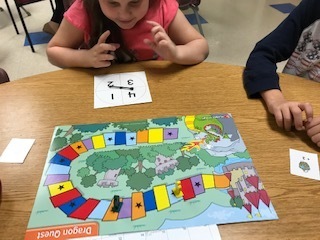 Put Out the Dragon's Fire and You Win!
Sherri Baron
Tuesday, November 20, 2018
Two students from Mrs. McCall's class are playing Dragon Quest from Level C Number Worlds Math. Students spin and count spaces to gather "buckets" of water. They add the numbers on the bucket cards together. The one who has at least 10 "buckets" of water puts the dragon's fire out at the end. Concepts: 1:1 correspondence, counting and adding.

Credit: Kathy McCall