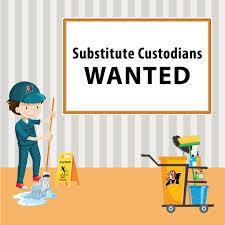 Custodial Substitutes Needed!
Liz Dudgeon
Friday, September 11, 2020
The Sanford School Department is looking for custodial substitutes to cover occasional custodial absences (various locations and hours).
The rate of pay is $17.00 per hour . The School Department will provide a pre-employment physical and the paperwork needed to obtain fingerprinting authorization to qualified applicants.
Job Requirements include:
-High School diploma or GED preferred
-Current Maine CHRC (fingerprinting) or ability to obtain
-Previous custodial experience preferred, including knowledge and handling of required materials, supplies and equipment.
-Experience in a school setting helpful
-Ability to work alone or as part of a team
-Ability to interact successfully with all ages
-Dependable and honest
-Detail oriented
-Flexibility in responding to the changing needs of the district (hours, locations, duties, etc.)
To apply, go to https://www.schoolspring.com/jobs/job.cfm?jid=3359443 or call the Superintendent's Office (207 324 2810) for a paper application.
Thank you!