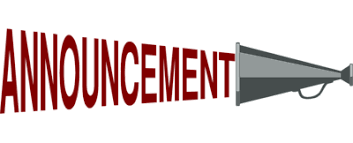 SHS Daily Announcements 2/12/20
Cynthia Pattershall
Wednesday, February 12, 2020
SHS Daily Announcements 02/12/20 Red Day
February is Black History Month. In its honor, the Civil Rights team will be showing The Hate U Give on the agora staircase on Thursday, February 13th, at 2:30. The Hate U Give is a powerful film telling the story of a young girl dealing with racism, police brutality, and activism. We would love to see you there!
Not doing anything on Valentine's Day? Go on a blind date with a book. Mrs. Raymond and SLAM members have chosen some of their favorite books, wrapped them up, and are ready for you to take a chance on them. Come check them out in the library!
Note from your nurse: "I KNOW YOU ARE ALL WONDERING...HOW CAN I PREVENT ILLNESSES IN MY SCHOOL? Avoid close contact: When you are sick, keep your distance from others to protect them from getting sick as well! Stay home when you are sick: You will help prevent others from catching your illness. Cover your mouth and nose: Cover your mouth and nose with a tissue or the inside of your elbow when coughing or sneezing. The inside of your elbow should be right up to your face. Hold it there with your other hand if you need to. Then wash your hands with soap and water or hand sanitizer. Wash your hands: Washing your hands will help protect you from germs. THIS IS PREVENTION NUMERO UNO!!! IF YOU DO NOTHING ELSE - WASH YO' HANDS!! They're filthy! Avoid touching your eyes, nose or mouth: Our hands carry lots of germs which can enter our bodies if we touch our eyes, nose or mouth. (I'm saying it ONE.MORE.TIME for the people in the back!) Practice other good health habits: Drink at LEAST 64oz of water a day, get plenty of sleep, be physically active, manage your stress, and eat nutritious food."
FOR SALE AT SHS
Plants Plus is holding its annual Valentine's Day sale on 2/13 and 2/14. They will be selling flowers in the lobby from 8-2:30 each day.
SPORTS ANNOUNCEMENTS
Spring Sports Registration is now open in Family ID. You can find the link on the athletic web page. All Spring athletes must have a current physical on file. Any questions stop by the athletic office.
Congratulations to the cheering team for placing 5th in the State Championship meet on Saturday 2/8!
Boys basketball playoff game @ Gorham Wednesday 7pm
Girls basketball playoff game @ Massabesic Thursday 6pm
Unified Basketball @ Kennebunk Thursday 3:30pm
State Wrestling Meet @ Sanford Saturday 9am
CLUBS AND ORGANIZATIONS
Art Club is in B127 every Thursday until 3:30.
Key Club will meet every Monday night @ 6:30.
Tranquil Tuesdays are back during Spartan Time. Sign up for the library on Tuesdays to read. No school work or computers, just you and a book. Mrs. Raymond is passionate about reading. She will kick you out of the library if you are not reading during this time :)
Hey epic gamers, the Video Game Club is now meeting every Tuesday after school from 2:30-3:30.
The Civil Rights Team will meet on Mondays at 2:20 in room B235
The Environmental Club will be meeting on Tuesday mornings at 7:20 in Ms. Wests Room in the Blue wing E222. Join us to decide what projects we will work on this year...will it be to bring back recycling to the High School or make the cafeteria green.
Peer Helpers will be meeting every FRIDAY in the small cafe beginning at 7:20 (or whenever you can arrive). Help give student tours, Thanksgiving baskets, lunch buddies, Special buddies and much much more! Grades 8-12 are welcome.
Sanford High School and Sanford Regional Technical Center support the FOOD BACKPACK PROGRAM. Students receive backpacks full of non-perishable food weekly to take home. We really need backpacks to make this program happen. Please donate NEW or USED backpacks. Also, if you would like to know more about these resources please see your School Counselor.
If you would like to donate New or slightly used Clothing, Shoes, Coats, Hats etc. please see Ms. Williams in Rm A242.
If you have any announcements you would like added please email them to cpattershall@sanford.org by 8:30am. Please specify how long you would like them included.
Job Opportunities
Wells ocean rescue is now hiring for summer 2020. Applicants must be 16 years or older. Please contact Linda Rizzo @ 207-646-7912
Community Service Opportunities
Are you interested in volunteering at Willard School? They are looking for upperclassmen volunteers during block 5. If yes please email tboivin@sanford.org
There is an after school program that runs at Carl J Lamb school. Starting March 5th-April 16th, the community service changes to Thursdays 3:15-4:15. It is outdoor club, so we play games and do activities outside 😊 If interested please see Mrs. Bourque in A241.
For Spoiled Pets is a non-profit organization located in Lebanon which takes in rescued animals. If anyone is interested in volunteering to get hours they can email Renee @ forspoiledpets@gmail.com
Curtis Lake Church Soup Kitchen needs help every Wednesday and Thursday from 5:00pm on setting tables, serving meals and cleaning up. See Mrs. Pattershall in Room A237 if interested. Serve once, or as often as you need/want.
Random Fact of the Day: Knitting was initially a male-only occupation. In fact, when the very first knitting union was established in Paris in 1527, no women were allowed.
Life Hacks from your school nurse: No bug repellent? Put dryer sheets in your shoes and in your pockets. It will help keep Mosquitos away.
Lunch Today: Hot Dog on a Whole Wheat Roll, Baked Beans, Broccoli Florets, Pineapple w/ Strawberries
Good Luck to the Boys Basketball team in their Playoff game!