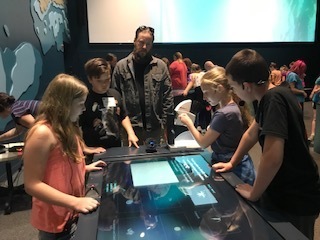 Scientific Research on the GMRI Field Trip!
Luba Greene
Tuesday, June 18, 2019
Each year, Sanford's 5th grade students venture in to Portland to visit the Gulf of Maine Research Institute to learn how scientists study the ever-changing Gulf of Maine. The field trips are paid for by corporate sponsors in Maine. Pictured here are CJL's 5th graders at interactive stations conducting their own research. Students were each able to handle a live lobster and try to determine many things about them. Recently, lobstermen have been finding Black Sea Bass in their traps and students learned how scientists are determining if they are an invasive species or are safe for our lobsters. Students were able to watch a virtual dissection of the Black Sea Bass to see what they eat. This year, an educational research organization (TERC) asked if one group could help with their research with the audio quality of the interactive stations, and you can see them wearing audio headsets. What a privilege! Many thanks to our wonderful chaperones! Amazing photos - credits to Ms.Joy, 5th Grade Teacher!