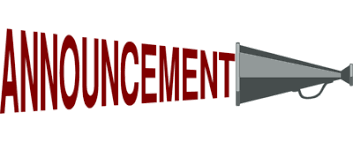 SHS Daily Announcements 04/11/19
Cynthia Pattershall
Thursday, April 11, 2019
SHS Daily Announcements 04/11/2019 White Day
The Variety Show hosted by NHS will be on 11th April starting at 6:30 PM EDT, we have lots of talent from both teachers and students, and you won't want to miss it. There will be food and drinks, as well as a raffle for prizes throughout the show!! Don't miss out on the first variety show in the new High School's Performing Arts Centre.
If you would like to get some amazing Spartan Gear, please visit the following website and check out the great designs the Sophomore class has to offer!! Shop.fancloth.com/c/489423
Do you play in a band? Know someone who does? The Senior and Sophomore classes are hosting a BATTLE OF THE BANDS!!!!! This will be held in the Performing Arts Center on May 17th and is open to all surrounding schools!! Tell your friends and let's show off our local talent! For more information, please see Mr. Smith in B210 or Mrs. Pattershall in A237.
Prom tickets are now on sale for $65 which includes a meal. They will be sold during all lunches or through Mr. Boissonneault, Mr. Kearson or the school store. Checks should be made payable to the Class of 2020.
The Freshman class is holding a penny war. It will take place April 22nd through May 10th at the Business and Marketing kiosk during all lunches. Each class will have a jar to drop dollars and pennies into. Any silver coins such as dimes and quarters tally AWAY points for that class. Each class will earn the profits from their jar. For more information, please see any Freshmen class officer.
There will be another Adopt-A-Prom dress on Thursday, April 11 in the upstairs E wing from 2:20-3:30. Please see Ms. Williams in A242 with any questions.
April is National Poetry Month. The library will be hosting a poetry slam during Spartan Time on Friday, April 26th, to celebrate! Please join in as a participant, or an audience member. You can read an original poem that you wrote, a favorite poem, or song lyrics (must be school appropriate). There will poetry stations in the library for you to create your own poetry all month. There will be many forms of poetry-creating offered, such as black out poetry, book spine poetry, and found poetry.
FOR SALE AT SHS
SPORTS ANNOUNCEMENTS
CLUBS AND ORGANIZATIONS
Future Educators Association (FEA) meets after school the second Tuesday of every month in B245. Come learn about careers in education and what it takes to make a difference. New members are always welcome.
Civil Rights Team will meet every Monday in Room B235.
Health and wellness club meets daily after school in the fitness room! All students and staff are welcome! Need a fitness plan? Get down here! See Coach Way with Q s.
Anime Club meets now on Fridays 2-3:30 in Room B243.
Key club is at 6:30 every Monday in the Sanford high school cafeteria.
Chess and cribbage will be held every Tuesday in room D228 from 2:20 to 3:30. All are welcome.
Art Club will be held every Thursday from 2:20 to 3:30 in Room B127.
SHS Peer Helper meetings are Tuesday at 7:20 in the small cafeteria (if you bus/ride get you here later than that please join us when you arrive). Help continue the positive school culture at SHS by being part of a variety of events...#justakidfromsanford, student tours, Thanksgiving baskets and much much more.
SLAM (Spartan library advisory meetings)- Create the library program that you want! Meets Thursdays during ST. If interested in joining, come see Mrs. Raymond in the library.
Sanford High School and Sanford Regional Technical Center support the FOOD BACKPACK PROGRAM. Students receive backpacks full of non-perishable food weekly to take home. We really need backpacks to make this program happen. Please donate NEW or USED backpacks. Also, if you would like to know more about these resources please see your School Counselor.
If you would like to donate New or slightly used Clothing, Shoes, Coats, Hats etc. please see Ms. Williams in Rm A242.
If you have any announcements you would like added please email them to cpattershall@sanford.org by 8:30am. Please specify how long you would like them included.
Job Opportunities
Jones & Lucier Custom Builders is looking for an entry level carpenter. They do not require experience and are willing to train. This is open to graduating seniors. Contact Christopher Jones @ jlcustombuilds@gmail.com.
Sanford Car Wash is looking for a fulltime employee willing to work a flexible 40-hour week which includes weekends. Please contact Sue Vessels @ 651-4889
Waban is looking for 18-year-old graduating seniors who might be interested in working in one of their wide variety of employment opportunities. If interested, please contact Bonnie Leslie @ 324-7955 x618
Acton-Shapleigh Youth Conservation Corps has several opportunities for students interested in outdoor work this summer. Must be 15 with a workers permit.
Wells Ocean Rescue is hiring for lifeguards for the summer. If interested contact Linda Rizzo @ lrizzo@wellstorwn.org
The Wash Bay Details is looking for Wash Bay Technicians. 16 years old and up. Contact Chris Swank @ cswank@britewash.net or call 207-451-9880
Bill Robinson & Son Building Contractors of Kittery, Me is looking for an interested Junior who would like to work a part-time internship during their senior year. Please call 207-252-0399 if interested.
The Down Maine Veterinary Clinic is looking to hire a veterinary asst./cleaning position part time. Send resume to downmainevets@yahoo.com or stop in for an application.
Community Service Opportunities
Animal Welfare Society is looking for students who would like to schedule various days after school or on the weekends to volunteer with projects around the animals. If interested please contact Rachel Levasseur @ 985-3244 ext. 121
For Spoiled Pets is a non-profit organization located in Lebanon which takes in rescued animals. If anyone is interested in volunteering to get hours they can email Renee @ forspoiledpets@gmail.com
Curtis Lake Church Soup Kitchen needs help every Wednesday and Thursday from 5:30 on setting tables, serving meals and cleaning up. See Mrs. Pattershall in Room A237 if interested. Serve once, or as often as you need/want.
Random Fact of the Day: Crocodiles and alligators are surprisingly fast on land. Although they are rapid, they are not agile, so if you ever find yourself chased by one, run in a zigzag line. You'll lose him or her every time.
Life Hacks from your school nurse: Fall in love with someone's eyes. It's the only thing that never changes.
Lunch Today: Dragon Punch, French Toast Sticks w/ Syrup, Trix Yogurt, Broccoli Florets, Cinnamon Applesauce
Have an Amazing April Vacation!