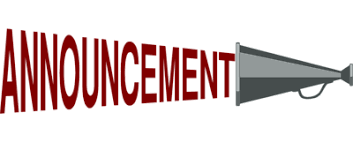 SHS Daily Announcements 04/01/19
Cynthia Pattershall
Monday, April 01, 2019
SHS Daily Announcements 04/01/2019 White Day
Have you heard? April is Autism Awareness Month, and the Civil Rights Team wants to help Spread the Word to End the R-Word. Join us during all lunches on Wednesday to let others know why you want to show respect by ending the use of the R-Word. You could even sign up to be part of the video!
Reminder: Tuesdays during Spartan Time, the library is reserved for silent, independent reading only! If you would like to come read in the library, please sign up during Monday's ST.
Seniors: SHS 2019 Graduation Scholarships Applications are available in the principal's office and/or the school counseling office. If you want to be included in the scholarship selection process, you must apply between March 15 and April 11!!
FOR SALE AT SHS
SPORTS ANNOUNCEMENTS
CLUBS AND ORGANIZATIONS
Future Educators Association (FEA) meets after school the second Tuesday of every month in B245. Come learn about careers in education and what it takes to make a difference. New members are always welcome.
Civil Rights Team will meet every Monday in Room B235.
Health and wellness club meets daily after school in the fitness room! All students and staff are welcome! Need a fitness plan? Get down here! See Coach Way with Q s.
Anime Club meets now on Fridays 2-3:30 in Room B243.
Key club is at 6:30 every Monday in the Sanford high school cafeteria.
Chess and cribbage will be held every Tuesday in room D228 from 2:20 to 3:30. All are welcome.
Art Club will be held every Thursday from 2:20 to 3:30 in Room B127.
SHS Peer Helper meetings are Tuesday at 7:20 in the small cafeteria (if you bus/ride get you here later than that please join us when you arrive). Help continue the positive school culture at SHS by being part of a variety of events...#justakidfromsanford, student tours, Thanksgiving baskets and much much more.
SLAM (Spartan library advisory meetings)- Create the library program that you want! Meets Thursdays during ST. If interested in joining, come see Mrs. Raymond in the library.
Sanford High School and Sanford Regional Technical Center support the FOOD BACKPACK PROGRAM. Students receive backpacks full of non-perishable food weekly to take home. We really need backpacks to make this program happen. Please donate NEW or USED backpacks. Also, if you would like to know more about these resources please see your School Counselor.
If you would like to donate New or slightly used Clothing, Shoes, Coats, Hats etc. please see Ms. Williams in Rm A242.
If you have any announcements you would like added please email them to cpattershall@sanford.org by 8:30am. Please specify how long you would like them included.
Job Opportunities
Colony Hotel in Kennebunk, Me. is looking for summer help. Call Mike @ 207-967-3331 ex. 520
Kittredge Plumbing and Heating is looking for a summer student to learn the job. Please contact James @ 207-651-0768
Sanford Sewing is looking for someone interested in the machine side of the business. Please contact Dan Waitt at dan@wsbessett.com
King Real Estate is looking to hire someone for after school/weekends for general labor. If interested, please call 207-332-7544
Pentair in Dover, NH is looking for a maintenance technician. Please see Mrs. Williams in the Career Planning Center if interested.
Sanford Dispatch is looking to hire someone to answer 911 calls. Please contact William E. Tower at wetower@sanfordmaine.org
The Clam Shack in Kennebunk is hiring. If interested please call Betsy @ 207-494-1239
Abierto NETworks is hiring. For information please see Mrs. Williams in the career planning center.
Community Service Opportunities
For Spoiled Pets is a non-profit organization located in Lebanon which takes in rescued animals. If anyone is interested in volunteering to get hours they can email Renee @ forspoiledpets@gmail.com
Curtis Lake Church Soup Kitchen needs help every Wednesday and Thursday from 5:30 on setting tables, serving meals and cleaning up. See Mrs. Pattershall in Room A237 if interested. Serve once, or as often as you need/want.
Random Fact of the Day: The CEO of Levi Strauss has not washed his jeans in over 10 years.
Life Hacks from your school nurse: Just in case you were looking for another reason to love cashews, a new study said that the same bacteria that causes tooth decay, acne, tuberculosis, and Leprosy can be killed off by eating Cashews!
Lunch Today: Maple Monday Oven Baked Chicken Nuggets w/ Mini Waffles & Syrup, Baked Beans, Whole Kernel Corn, Fruit Cup