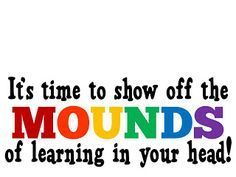 MONDAY, APRIL 1ST
Tracy Cole
Monday, April 01, 2019
TODAY IS A WHITE DAY
There is no band or lessons today due to MEA testing. All 8th grade band students will have lessons on Wednesday as well as 7th grade percussion. All other 7th graders will have lessons on Thursday. Jazz Band will practice Thursday from 2 to 3.
Mechanical Advantage Club meets this afternoon in room 39 from 2-3:15 for building SeaPerch ROVs.
Chess club will be held in Mr. Pyle's room 23, from 2-3.
Reminder that track practice starts today right after school. After changing students should meet outside the greenhouse until the gate is unlocked. If you do not have a physical or your paperwork turned in you cannot come to practice. It is NOT necessary to have your grades form turned in yet. There will be a sign posted outside Miss Allen's room with the list of student cleared to play.

See Coach Sanborn or Allen if you have any questions.
No Spanish or French classes today or tomorrow
Popcorn will be available in the cafeteria for a Respect card.
NaNoWriMo will meet in room 45 on Thursday, April 4th with rides ready at 3 pm.

Computers are not needed. Please see Ms. Sawyer if you are unable to attend or if you have any concerns.